Can You Trust Yelp Reviews?
If you are running your own business and need to build an online presence, Yelp can be a useful tool. Launched in 2004 to help consumers find, review and bookmark businesses, Yelp has been key for consumers' online experience and business owners' web optimization.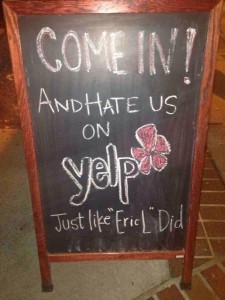 Yelp reports 168 million monthly visitors, from both the website and mobile apps. Yelp reviews rank high in search and have become a natural part of consumers' business decisions. Nevertheless, many visitors and business owners feel hesitant about Yelp. The company has been involved in lawsuits and tied to business horror stories. So what's true about these rumors?
Biased Reviews
Businesses can be competitive, and the virtual world is no exception. When it comes to reviews, it is very difficult to identify if posts reflect real consumer experiences or if companies manipulate the content. For example, some of the reviews can be based on speculation or a conflict of interest. Yelp does not require people to identify affiliation or use location-based check-ins. And because the accounts are free, it's easy to create multiple profiles and pull the strings on consumer perception.
Bought Reviews
Companies spend lots of time, money, and resources discrediting their competitors. Yelp reviews are actually sold online, a practice undetected by consumers. Whether brands buy reviews to boost their own ratings or sabotage competitors, it's a reality of Yelp people can't deny.
"One thing that was slightly surprising, not so much to me but to most people, is the proportion of suspected fake reviews that Yelp removes—approximately one-quarter of all reviews submitted to Yelp are not published. That's about 10 million reviews."  – Georgios Zervas
The Lawsuit
In January 2015, the Federal Trade Commission determined that Yelp does not reward businesses that advertised with inflated reviews or penalize those that do not purchase ads.
However, Yelp can legally withhold positive reviews, a practice that could be used by sales departments to increase ad revenue.
Therefore, perpetuating this idea of Yelp as a reliable source for unbiased reviews is tainted. Especially when businesses compare Yelp to the Mafia or a bully. Yelp maintains that they have never done this tactic, but when it comes to small businesses across the United States versus the review company, it's difficult to trust Yelp.
Where to look next?
Yelp may be your number one source for reviews, but have you considered the alternatives? Local Guides by Google, which was recently revamped, fits the interests of both consumers and businesses. However, right now, Local Guide's biggest obstacle is that it doesn't have as many reviews as Yelp. But as more and more businesses and consumers distrust Yelp, they may turn to Google instead. Additionally, to build company profiles and foster attentive user reviews, Local Guides offers unique bonuses.
Similar to Yelp, accounts are free. Unlike Yelp, there are tangible incentives to build up a reviewer's profile. Points can be accumulated through thoughtful reviews, helpful pictures, information fixes, question responses, and new business uploads. In turn, points can be used to attend summits or try new Google devices.
And as for the monitoring of unethical behavior, Google can use the same powerhouse technology on black hat SEO methods as they do with bad review practices. Google has been trusted in a variety of brands and products and doesn't have a single, self-serving business practice like Yelp.
While nothing replaces word-of-mouth, review apps and tools have become a popular habit for online research. Whether you're a Yelp lover or hater, every business needs an online review management strategy.
Yelp Alternatives: Top Review Websites
Yelp is a crowd-sourced local business review site, and many use this site to either advertise their business or find a business that has what they're looking for, but what are some yelp alternatives?
Foursquare
Foursquare is all about discovering new ways to explore your hometown. The site is able to recommend locations based on your previous selections and creates preferences specifically for you. Foursquare offers you to compete with your friends based on your recurrently visited places.
Judy's Book
Judy's Book is an online yellow page used by millions of members to discover the ideal deals, discounts, and coupons they are looking for. You can choose to trace businesses and professionals, such as pizza restaurants, dry cleaners, dentists, restaurants, physicians, and plumbers.
Facebook
Growing your Facebook community and your page review score is a worthy goal for any company, large or small, and so it's important to know how to get more reviews on Facebook.
TripAdvisor
TripAdvisor is free and easy to use for finding hotels, restaurants, and attractions for any destination. The site has up to 32 million members from across the world and has more than 1000 million reviews, making it a very helpful tool and a perfect alternative to Yelp.