While seemingly every business out there has a Facebook, a Twitter or both, most people thinking about social media are not usually thinking about Pinterest for businesses .
Pinterest is rapidly expanding; according to Ignite , the site receives almost 1.5 million unique visitors daily and has over 4 million users. But unlike more well-known sites like the previously mentioned Twitter and Facebook, which are fairly broad in terms of their core demographic, Pinterest appeals to a more specific market.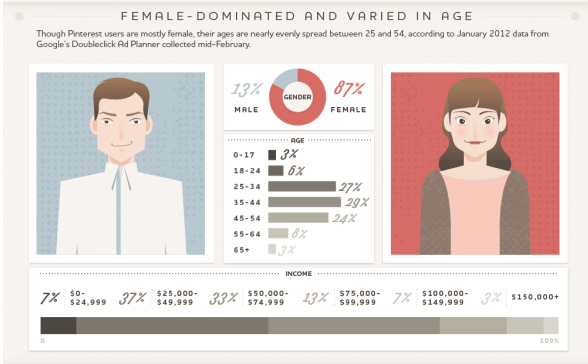 There are three major trends that people who are considering promoting their business on Pinterest should consider.
1) Pinterest is dominated by women
This is probably the most widely known demographic fact about Pinterest. However, some may not realize just how wide the gender split is. Roughly 80% of Pinterest users are women. While there are sections of the site that appeal more to men, keep in mind that on average, four out of every five page views for your pins will by female users.
2) Wealthy Pinterest users are rare
77 percent of, or slightly more than 3 out of every 4, Pinterest users report their annual income at under $75,000. This is not shocking, considering that many of the topics on the site are money-saving ideas and projects. While advertising for your expensive jewelry through Pinterest may seem like a great idea because you'll be reaching interested consumers, the odds of finding users who can afford your products will be low.
3) Pinterest is more popular in less-populated areas
Internet users from Utah, Oklahoma, Arkansas, Idaho, Mississippi, Alabama, Montana, Kansas, Tennesee and North Dakota account for over 1/4th of all Pinterest visits. Yet those same ten states account for less than 1/10th of all social media/forum activity. This means that advertising for businesses located only in big cities should probably avoid Pinterest except in certain cases.
If you want to know more about Pinterest and if it's right for your business, then please contact us today.