A professional and aesthetically appealing website is the requisite of all law firms, especially those dealing with personal injuries. When someone suffering from accident and distress wants quick help, your website can act like a friend and encourage them to go for your services.
Today we will explore some effective law firm websites which give you an idea for creating or refining your own personal injury lawyer website.
One of the most effective ways of making clients feel welcomed is by placing high resolution pictures of the lawyers of your firm. That's exactly what we find in the case of WCTL website-
Anyone who visits your website can see the real persons they are going to deal with which instills trust and confidence in them.
Following the image we find testimonials left behind by clients which are a great way to prove the quality of your work. The website uses white space effectively to stress on the USP of the firm like Harvard educated lawyers, no charges till case is won, experience and so on.
The design and content of the website tells a person clearly what they need to know going through personal injury and the options available to them.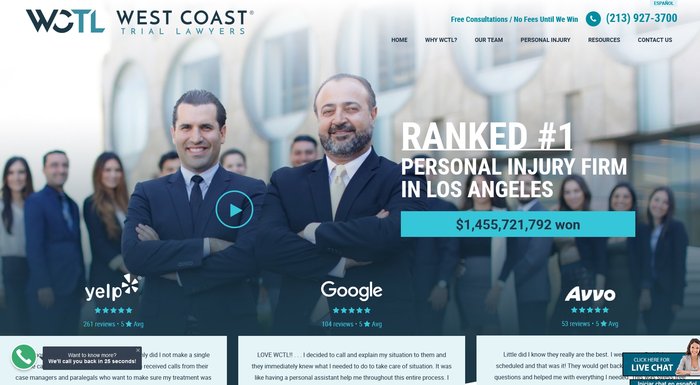 KRW Lawyers
Nothing works better than getting your message over clearly and concisely! The KRW website instantly makes a person connect as it presents and addresses the questions a person is likely to ask in such situations.
We can also find the use of a smart call to action button with a call for free case evaluation. The law firm uses the tactic of segmentation and categorizes different form of personal injuries. It enables them to collect data effectively and work out analytics for better business insights. Clients also know which option to choose without wasting time which increases the chances of conversion.
The site even has videos which is a crucial audience engagement tool in the digital world.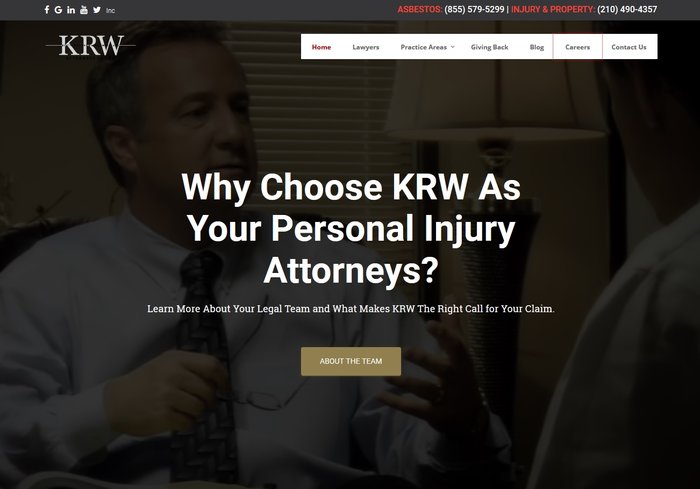 "Losing is not an option"- it is the message the website greets you with and that is something a person fighting for a personal injury claim wants to hear!
The short and concise opening message serves as the perfect call to action. Below the message we find how exactly the firms stands out contrasted with a white space background for maximum effect.
We also find the use of self shot of the lawyers which brings confidence and trust in your clients. There is a neat side panel which even lists the client testimonials to make the users convinced.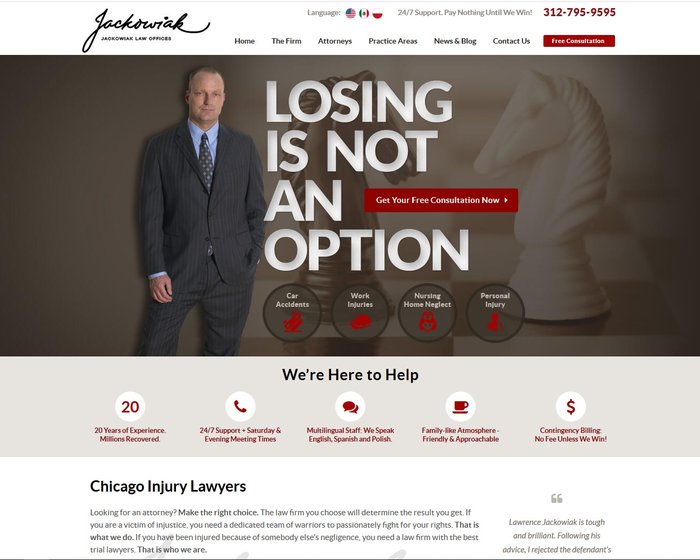 Capps Law Firm, PLLC
Our last example is of a law firm dedicated to divorce practices. The sole reason we chose the website is to show you how images can form a large part of the website background to create a professional and aesthetic appeal.
The Capps Law Firm website proves that you don't need an overcrowded site which ultimately deters your clients. A simple, carefully designed website with strategic use of white space and images coupled with easy navigation is a sure way to maximum conversions.