When we think of jewelry, we think of elegance, luxury, and wealth. These qualities are what most people look for in a jewelry store. It is also what people expect from a jewelry website. But can you make the site stylish and functional at the same time? A decorative window at the mall is useless if it doesn't entice people to come in and buy the products.
The same is true for websites. It can be luxurious and elegant, but if it isn't functional and doesn't make it easy for people to visitors to buy the items, it still is not doing its job. Let's look at a few of the best jewelry web designs out there that we're able to combine beauty and luxury with functionality successfully.
Best Jewelry Website Design That Combines Beauty and Functionality
Limnia is a small jewelry shop that caters to modern women. Because it is competing with big brands, Limnia had to establish itself in a niche. The company had to make sure that it takes care of that fanbase and gradually grows it organically.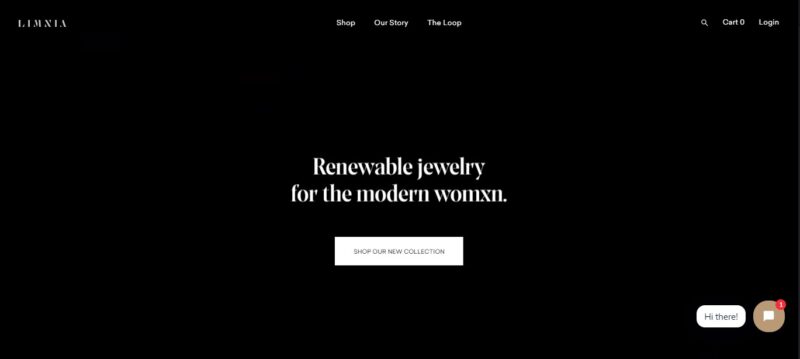 What We Like About It
You need an effective way to contact your fans and website visitors. That is why your website must have an excellent system to capture email addresses from your visitor.
This way, you can update them if a new collection becomes available.
Limnia does this by having a newsletter sign-up window appear before you can enter their site. While others may find this annoying, it is still an effective method to gather email addresses for its email campaign.
Limnia's website is worth the minor inconvenience of clicking the close button for the sign-up panel because it is stunning. A video header greets the website's visitors whenever they go to the main pages.  The contents are arranged beautifully, with lots of white spaces in between elements.
To be able to compete with giants in the industry, you must work with a professional photographer. Unlike in a physical store where the people can see the product up close in good lighting, the visitors will be judging the products on the website based solely on how it appears in the photo. You want to make sure that the photos are captivating and suit the theme of the store. If you look at the product photos of Limnia, you will see that the company invested in a good photographer.
Jewelry can be expensive, and it is so hard to find a good bargain. So, if your client carries a great collection of items and has a sale, it is a great idea to put that sale announcement where everyone can see it. This is what the design of Ross Simons' website did to attract more customers.

What We Like About It
Ross Simons is a jewelry shop that offers numerous beautiful pieces at a great price. The company has many promotional sales, and its website's homepage features all of them effectively. The header is all about the different types of sales that are ongoing.
Below that banner is a section about the curated collections. It is good to categorize the entire collection into themes to make it easier for the visitor to look at the items without becoming overwhelmed with the number of choices.
The website is constantly updated, so there is always something new to see. It has a Birthstone Spotlight section, so if it is your birth month and you are looking for a gift for yourself, you'd naturally check this collection first.
The Blue Nile is a company that specializes in engagement rings. Because they know that this is their biggest seller, the features on their website focus on a specific audience – those people who are looking for an engagement ring.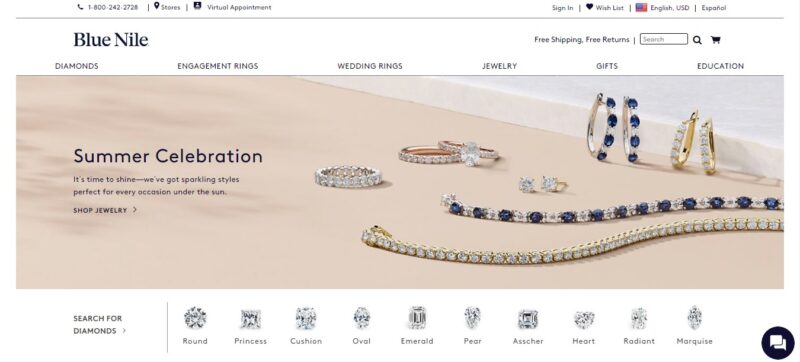 What We Like About It
Even if the shop carries all sorts of jewelry, the main product is rings. The menu showcases different kinds: weddings, engagements, and gifts.
Instead of having a text menu, the search box for a diamond ring features different cuts to make selecting easier. This way, a visitor hunting for a particular look can go directly to the selection of rings of their preferred cut.
Below that, the website also features a build-your-own-ring option. You can either start with the setting or with the diamond. So if they do not carry what you like, or if you have a particular look in mind, you'd easily be able to have them create it for you.
And if you require assistance in creating the design for your ring, there is a call button to click to contact the shop's ring expert. These are just a few elements that you should consider putting on your website.
Shopping for diamonds online is not an easy task. Even the greatest picture cannot capture the full beauty of a diamond. A photo cannot show how the diamond looks from all angles. But the designer of James Allen's website was able to find a way to make diamond shopping online easier.

What We Like About It
One of the most popular pages of the James Allen website is its loose diamond page. The site makes choosing a diamond straightforward with its step-by-step guide. First, you can select a diamond from the shop's vast collection based on where it came from (earth or lab). After that, you can input the details of the diamond that you are looking for based on shape, color, clarity, cut, carat, and price.
Once you've narrowed down your options, you get to look at the diamonds. The website features a 360-degrees HD look at the diamonds. You mouse over the selection, and the diamond will spin around, giving you a 360-degree view. If you want a closer look, just click on the loose diamond that you like, and you will be able to zoom in or out on the gem. It's almost the same experience you would have if you were inspecting the diamond at an actual store. Plus, you can look at all the diamonds without any clerk getting impatient with you, so you can take your time and make the best decision.
If you want an expert opinion, the website also offers a real-time diamond inspection option. This means you get to chat with a non-commissioned jewelry expert to answer all of your questions any time of the day and any day of the week.
You want to instantly know who the jewelry shop's target audience is when you get to the homepage of their website. With high-end, luxe brands, you'd expect the use of dark colors or white background. But with Alex and Ani's use of pastel colors, you immediately know that it caters to a younger, hipper set.

What We Like About It
You will feel the young vibe of the website with the use of pastels as background for the sections. The photographer used the same bright colors as the background for the jewelry pieces. Despite the extensive collection of fun accessories, visitors can easily find what they want because of its organized menu.
The younger audience doesn't just buy the accessories based on appearance. Most young buyers like having things with a deeper meaning to them. That's why the store included a "Meaning" option in its search filter. So, if a visitor wants to find a bracelet that evokes the feeling of "faith and hope," they can click on that and be presented with the pieces under that category.
Another feature that we liked is that when you mouse over the menu, you don't just see the text of the options underneath it. There is also a picture of a featured item beside the words. This is an excellent way to mote a product and hopefully entice visitors to buy that particular piece. The website's designer also placed an announcement of their current sale there on the drop-down menu.
In any shop, the product is the king. Especially in a jewelry shop, it is crucial to highlight the beauty of the items it is selling. Look at how the website of Abbey Seymour showcases its pieces.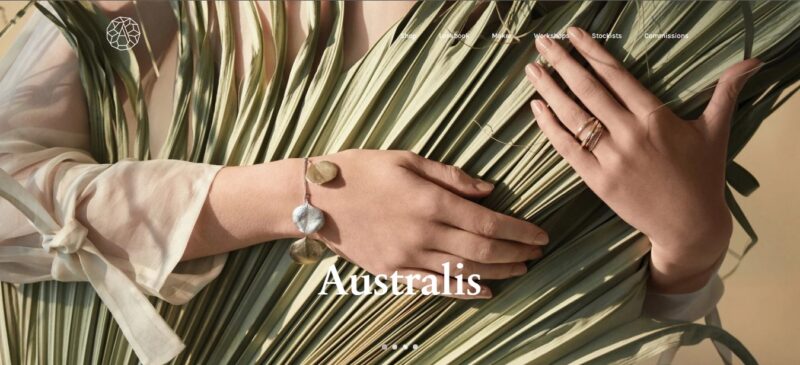 What We Like About It
This shop's website is aesthetically striking. Because the jewelry collection is nature-inspired, the color scheme of the images used is close to nature. They used earthy colors like browns and greens.
Because the website wanted to focus on the collection, nothing is on the homepage besides the small texts for the menu plus its attention-grabbing carousel of photos of models and the jewelry. Then it goes directly to the picture of the products arranged neatly in grids.
The details of the products appear only when you mouse over its image so as not to ruin the aesthetic impact of the plan images on the page. When you click on an item and get to the product information page, you will see a bigger picture of the item and a picture of the item worn by a model. This is an excellent element to add because it is sometimes difficult to assess a piece of jewelry with just the dimensions. You can end up buying an item that may be bigger or smaller than what you assumed because there is no frame of reference.
Another great feature of this website is a lookbook. Getting an idea about what tops or other accessories would go well with a piece of jewelry is an excellent addition to any website. Plus, it is an effective way to sell more products if they can see a few pieces that look good together.
Conclusion
A jewelry store's website must be more than beautiful. It has to be very functional too. Buying jewelry online can be a little more challenging than going to a physical store to check them out because it is tough to judge the beauty of a piece without actually seeing it.
That is why it is essential to include many features that would bring the in-store experience onto the digital store as possible. Real-time inspection of jewelry pieces, being able to spin a piece around, seeing how the product is worn are just a few elements that you can add to your site to make it one of the best jewelry websites out there.