Austin Bats are actually from Mexico. They live in Mexico when they are not living in Austin. These amazing creatures reside under Austin's Congress Street bridge from March through October. This gives Austin Bat Enthusiasts many opportunities to watch these flying mammals in action.There are a huge number of them that migrate to Austin and make this city their home. For now the largest estimate that has been validated is an astounding 1.5 million!! That is a lot living in one place.
Austin Bats
Many of the Free-tails traveling to the Gov. Ann Richards Bridge in the spring are actually pregnant. They migrate here and raise their young here as well, up until early fall. In the early Fall is when they will return to their Winter home in Southern Mexico.Austin is a great place to visit, especially for humans. Austin, Texas offers great dining in its wide variety of restaurants, great music in its pubs and music halls, dancing and partying at may of the clubs and bars up and down 5th and 6th street. Austin is also home to the world famous University of Texas and their beloved Longhorns. In addition to the Austin Bats it is the home of Stevie Ray Vaughn. the best blues guitarist ever.
Austin Bats in Texas
We love to See the Bats in Austin but also remember the thing that brought the bats here. The warm hospitable climate and the supply of food for them. They are nothing to be feared and are great to see under the bridge at all times if you are lucky enough to see them. Come out just before dusk and follow the suggestions that we offer. You will have a great time seeing the Austin Bats.
The Austin Congress Street Bridge Bat is actually named "The Mexican free-tail bats," or (Tadarida brasiliensis.) Relative to others in the world the Austin Bat is in middle of size range.
Free-Tail Bats
Their bodies are about 3.5 inches in length, and they weigh about .5 Oz and have a wingspan of 14 inches. Their ears are wide and set apart (seen in the picture here) and aids in finding food with echolocation which is much like the sonar that submarines use. Since the bat is actually a mammal and not a Bird it has hair, actually fur. The Austin Bats fur can vary anywhere in between gray to dark brown.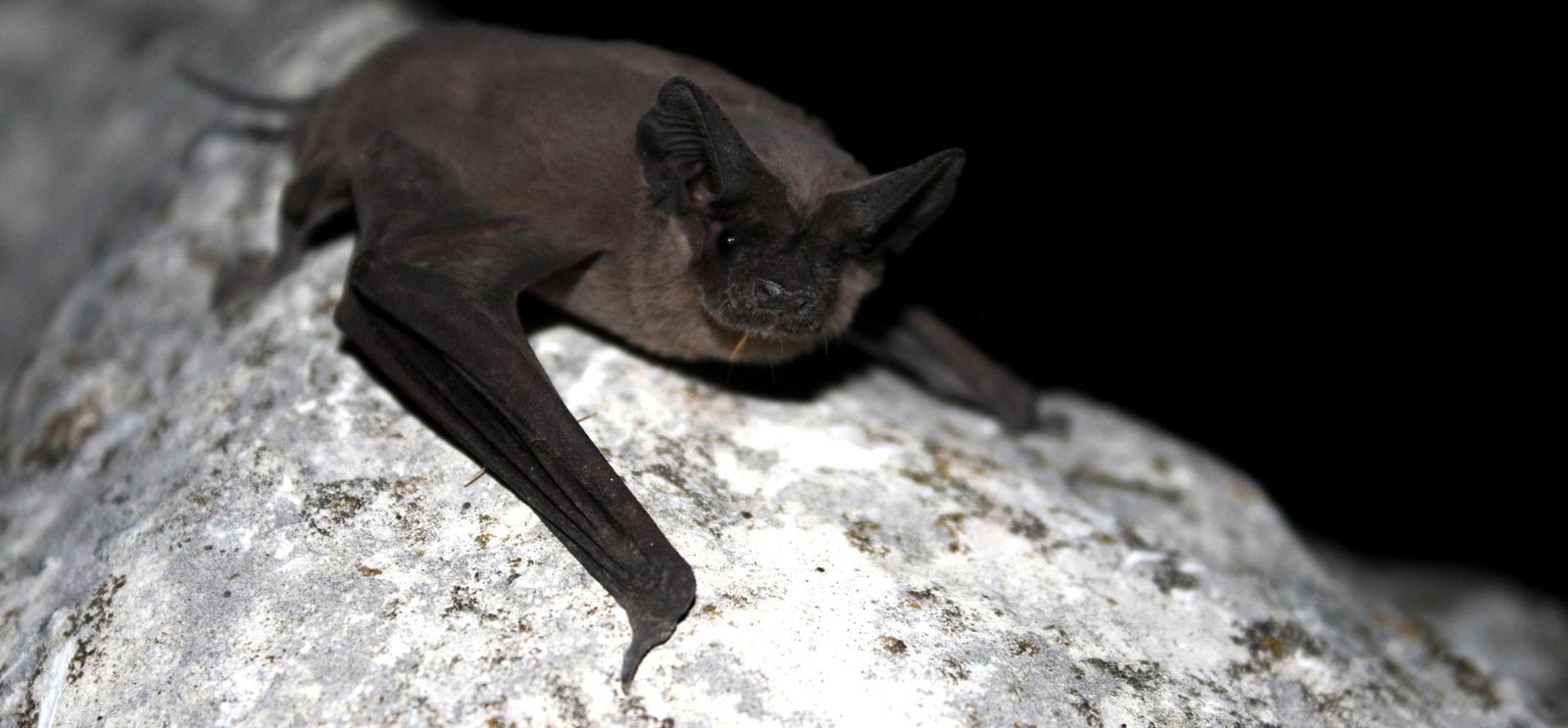 The Austin Bridge Bat is important to the ecological balance of Austin, Texas. They are a natural for of pest control eating twice their own body weight and that equals up to 30,000 pounds of insects per night.
Mexican free-tailed bats normally live in caves in the southern United States, throughout Latin America, and South America. (see Bat Migratory map) Their bat colonies are the largest congregations of mammals in the world! The Austin Colony is impressive, however the largest colony is found at Bracken Cave, north of San Antonio, Texas, with nearly 20 million bats. This is very close to Austin, Texas where the Austin Bats of Congress street bridge reside for much of the year.
When baby free-tail bats (Austin Bridge Bats) are born, their mothers leave them behind in the Bridge Crevices while they go out to hunt for insects: Mosquitoes, gnats, flies, etc. You might think that it would be difficult for the bats to find their own pups, but through "sounds" and scent they certainly can. These are amazing Creatures that a valuable asset to our delicate Ecosystem.
Also, please remember even though these furry creatures are actually very cute, DO NOT ATTEMPT to pick one up. Do not touch one of these bats. Bats ARE mammals and therefor are known carriers of rabies. Rabies is highly contagious, especially if bitten.
Please remember to enjoy your visit when you see the Bat Bridge. Specifically, enjoy all that Austin has to offer, kayaks, boat tours, shopping, Austin Texas Longhorns Football, restaurants, dining, nightlife, Austin travel, hotels, and great deals. It can be very cheap to fly here Great opportunity to see Free-Tail Bats.
The bats usually depart from about 30 minutes to an hour before Dusk.
Austin Bats Schedule
You will need to get there early though to keep the Austin bats schedule,and its a great idea to plan ahead for dinner. There are so many nice restaurants, bars, pubs, dives, and patios that Austin has to offer you. The Austin Night life is great with all of the great live music and shows, and there is much to do the great park there and the people are wonderful.
Bat Schedule Austin 2019
The Bridge is okay to watch them from but underneath the bridge the action starts earlier and you can see them longer because the Austin Bat Tours Boats have special lights that they shine on the underneath side of the bridge. We recommend this to you.
Austin Bats Schedule Times
Here is a schedule of when you can expect dusk to be, just please look to the right and see the Calculator. It is located just under the video of the Austin Bats in flight at dusk. Remember that the Austin Bats Schedule widget on the right is an approximate time and conditions vary due to weather, temperature, food and time of year as well. Be sure to double check once you arrive to make sure that you don't miss a single BAT!
Austin Bats Schedule is there to be a guide for you. You still need to set aside time for parking, directions, and getting something to eat. The tour boats do offer drinks but you might want to eat something prior or bring something on board the boats.
There are a lot of variables to consider so please plan ahead and leave some time to find a spot for your car and find out where your boat is located. Get there at least an hour before this time. Our Austin Bat Schedule adjusts to fit sunset everyday so you can check back on the day you plan to make you Austin Bats Schedule. From there you can plan your evening of dining or entertainment here in Austin and still be at the Congress Bridge in time to see the Austin Bats Schedule!
Bat Bridget Directions
Below you will find Austin Bridge Directions, the Google Map identifying where the Congress "Austin Bat" Bridge is located. This Bridge is actually known as the Ann Richards Bridge in addition to being called: "Congress Bridge, and Congress St. Bridge." There are many Restaurants and lively Bars in the Area. Take a minute to explore the area the Austin nightlife is something very special you can just ask the native Texans residing there. You will be mystified by the amazing bats there and how many there are the shear numbers alone are astounding. Exactly how many Bats there are located at the Bridge, no one knows but its in the millions!
Near the Austin Bat Bridge
You will also find great Hotels, a crazy nightlife, and fantastic musical entertainment as you might already know. Downtown is filled with one way streets and some potholes. You need to plan ahead because if you get forcibly diverted for some reason and wind up on Mopac then it will take a while to get back to the area that is awaiting with your Austin Dining experience, so don't forget directions there.
Please see that there is a lot of places close to the Bridge to find great Austin Entertainment: Wonderful Restaurants, Unique Pubs and Bars, Bistros, and Dive eateries. Bat Bridge Directions, Austin is an eclectic town full of excitement and history not to mention the world famous Texas Longhorns!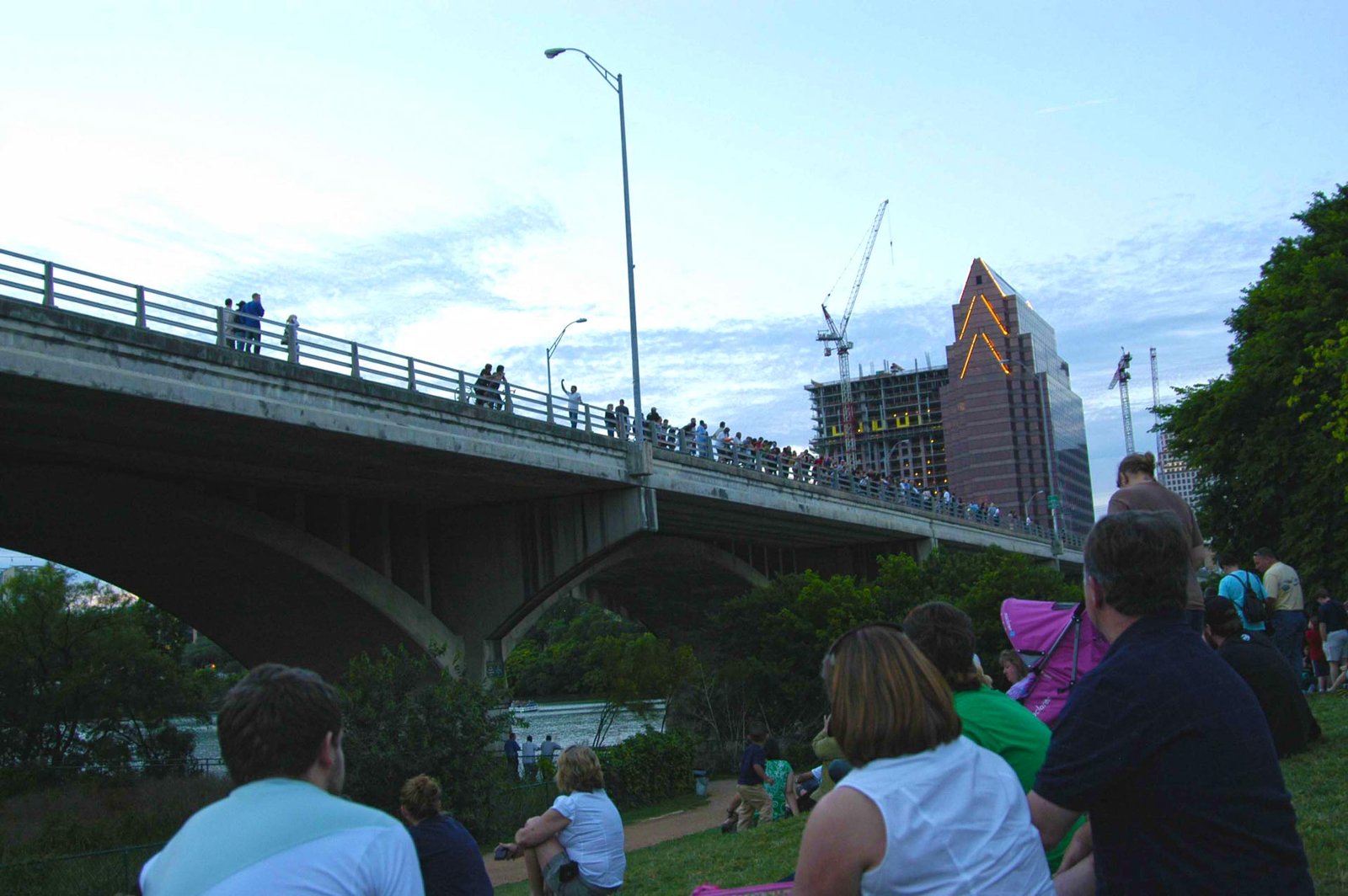 Be cool and calm when you are looking for the bridge. In time you will see swarms of people just like the swarms of bats hovering overhead. The hardest part about getting to the bats is FINDING the Bridge. With Austin's downtown filled with one way streets you need to plan ahead and use this website and tell your friends. Please leave a comment about this site that covers the Directions to the Austin Bats Bridge.
Austin Bat Tours
Austin Bat Tours are by Guided Boat. There are a couple of nice companies that run a total of around six riverboat bat tours, Austin Bat Toursbarge-like large flatboats. Each are manned and have speaker who will walk you through the Austin Skyline, it will include a bit of history, then wrap up the tours under the congress street bridge at sundown.
Bat Tour by Boat
You can also tour the area in your own private boat. One can rent kayaks, canoes, and dinner boats for couples. People come from all around wanting to tour on these boats. So please remember to get a reservation. This is imperative. Additionally please get there early even though you have a reservation, because you might end up inside the big boat and that's not a great vantage point.
Bat Tours in Austin TX
Be very careful when taking the tours. The boats are relatively safe as long as you stay with the 2 or 3 reputable tour boats. The thing that is important if you have small children is to keep them with you at all times. The rails on the boats are not too high and are easy to climb over or accidentally fall over when they are trying to look around the crowds that line the edge of the boats. When standing in line and boarding the Tour Boats to see the Austin Bats from the water there is a lot of waiting in line.
Waiting in line both on the bank and on the dock children can easily slip through the crowd while you are trying to give your ticket for boarding. Your view of the immediate area is blocked by the massive amounts of people clamoring to get in line. The area around the boat can be accessed by anyone on the boarding dock and there is no rail there. Children can easily fall between the boat and the dock and we have seen it happen 1st hand. KEEP your child close and all should be fine.
Please leave feedback and recommendations of which tour boat you chose, please help others to have a great time at this semi-natural resource. Enjoy your Austin Bat Tours and be careful and responsible.
Parking
Below you will find the Google Map identifying where easy parking is located to access Congress "Austin Bat" Bridge. This location is the front of the Hyatt Hotel. If you pull in here there will be a sign direction you off to the left. There will be another building that you can park behind. It is usually 5 dollars to park you car. Be careful not to park in a reserved spot, because you will be towed for sure.
There are many great Restaurants and lively Pubs in the Area. This is the home of the infamous 6th Street and the more grown up "5th Street" as if you hadn't heard.
You will also find great Hotels, a crazy nightlife, and fantastic musical entertainment here, heralded home of Stevie Ray Vaughn. (We know he was born in Dallas) The great thing is that if you do make this your base for the night then you can walk or take a quick taxi to Austins infamous 6th street. You might prefer the slower and more restaurant oriented 5th street that has gained a lot of nightlife notoriety. Both streets have many live bands and live music nightly as well. So you will never run out of things to do there.