Best Veterinarian Web Design Inspiration
Our pets are part of our family. Pet owners searching for veterinarian care for their baby want quick access to care and contact information, plus useful pet care advice and tips. If you're a veterinarian trying to attract new patients, you want pet owners to contact you, make an appointment, and spend some time on your website. Here are our picks for the top 10 veterinarian web designs that do a great job on both counts. Now if only Google translator could speak Woof-lish or Meow-ese.
1. San Juan Veterinary Hospital in New Mexico
This site features Pinterest friendly images with helpful pet tips prominently on their home page. A Facebook widget encourages social sharing and a video tour helps to engage new site visitors right away. The mobile version of their site uses images resembling app icons to represent their menu items – a nice touch.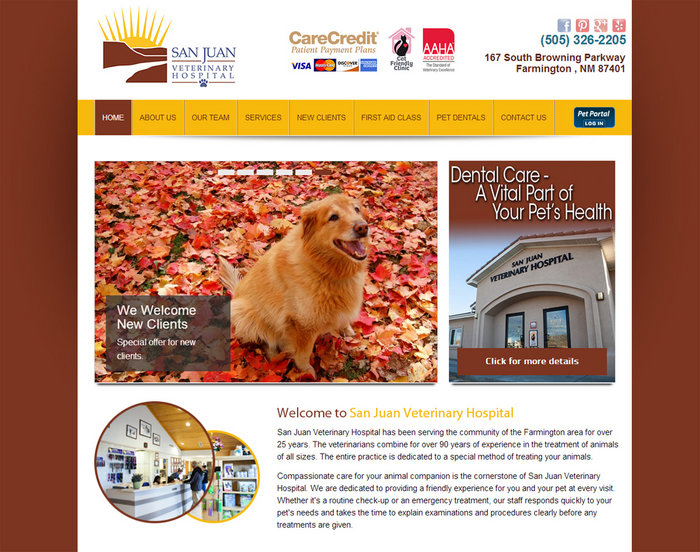 2. Katy Trail Animal Hospital in Texas
Trees sway in the background of this inviting site. Hover over the top menu items and watch the background turn to grass. The overall effect is a natural, outdoor-loving ambience where pets are sure to feel welcome. Their Best Vet award is displayed in the center of their homepage , to let visitors know they are renowned in their field.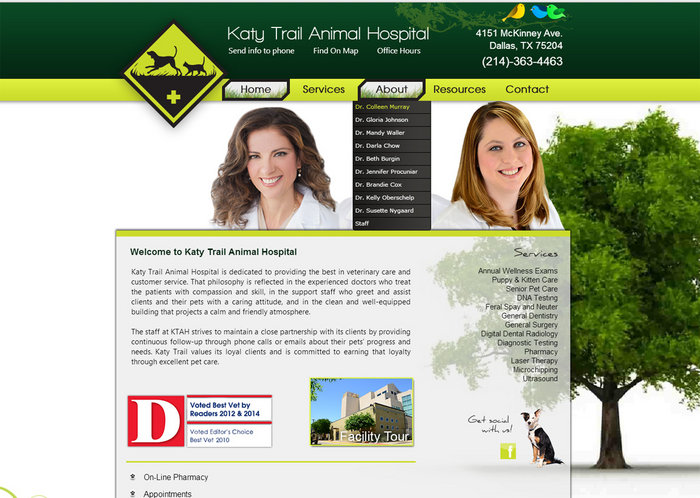 3. East Side Animal Hospital in New York
A unique homepage layout and attractive rotating images make this site eye-catching. Notice the app download button in the right corner – a nice feature for mobile users. Who isn't a mobile user these days?
East Side Animal Hospital in New York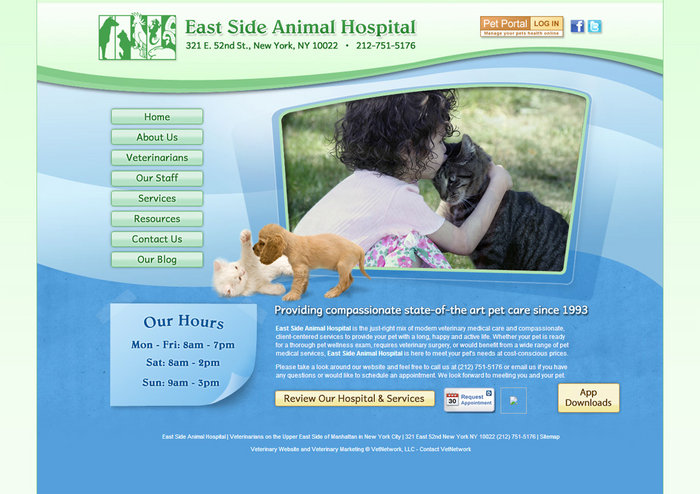 4. Adobe Veterinary Center in Arizona
Visitors to this site are met with beautiful rotating photos of a variety of animals, which immediately stir the emotions. Just look at the expression on that boxer's face! The homepage is simple and uncluttered. A fun addition is a kid's page complete with first pet tips and games and quizzes.
Adobe Veterinary Center in Arizona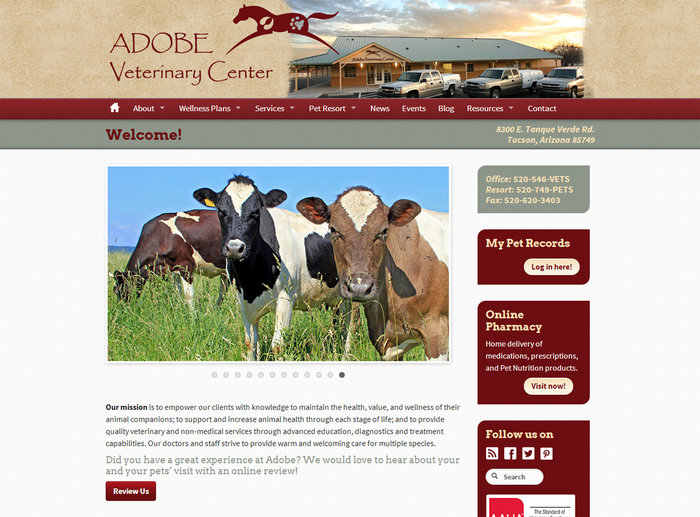 5. Town & Country Animal Hospital in Florida
A prominent tagline and large phone number help visitors to remember this site. The Facebook page and blog are promoted front and center to encourage visitor interaction. The ads on the front page are vivid, not boring.
Town & Country Animal Hospital in Florida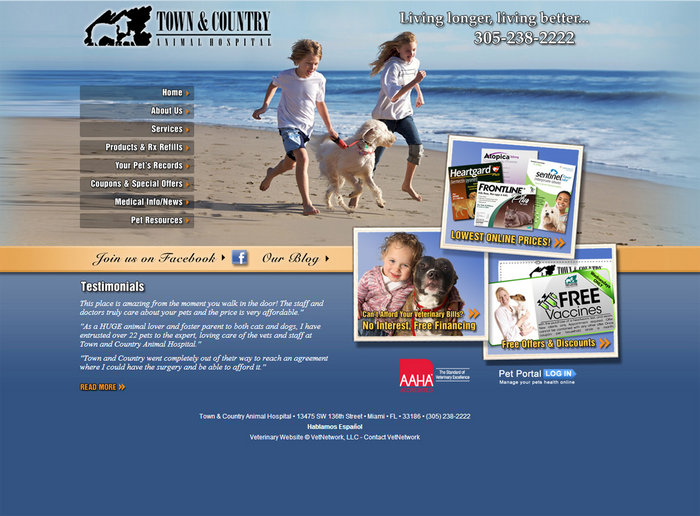 6. Madison Street Animal Hospital in Washington
This layout with its interesting shapes and changing pet snapshots is appealing to visitors. Hours are displayed as if it is a sign on their door, which gives a welcoming feel. Pet owners are encouraged to make an appointment or read reviews right on the homepage, in addition to the sidebar of each page.
Madison Street Animal Hospital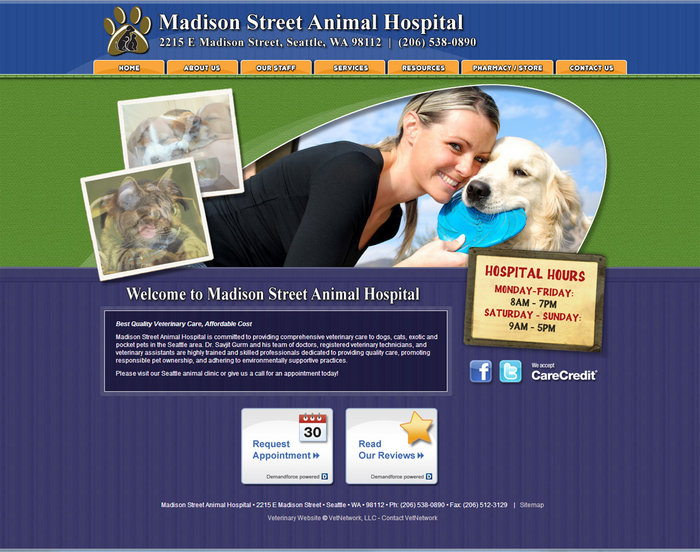 7. Westcott Veterinary Care Center in Michigan
Click the Services menu item and the homepage appears to simply morph into the page you clicked. This makes for easy navigation. The footer menu tells you specials and services and shows easy links for appointments, prescriptions and emergency care. Also, there are lots of Pinterest worthy images of cute pets.
Westcott Veterinary Care Center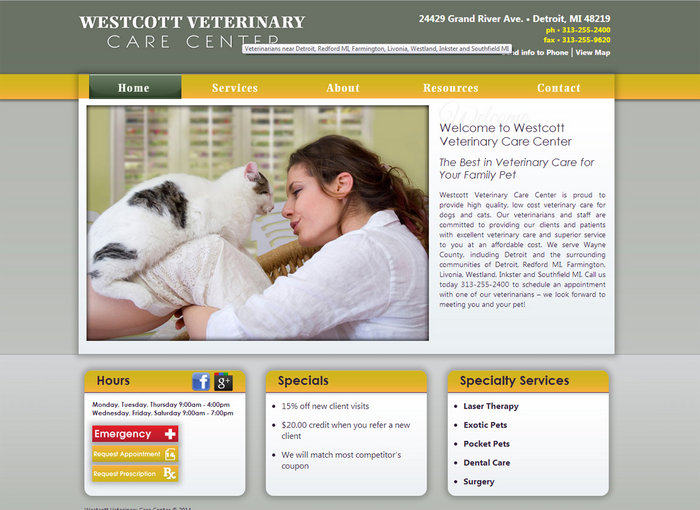 8. AniMed Animal Hospital in Missouri
The shapes used on the homepage make this site visually interesting. Their contact information and social sharing buttons are easy to find at the top of the page. Their menu items are overlayed onto pet images which is more appealing than words alone. Plus, everyone knows dogs can't read.
AniMed Animal Hospital in Missouri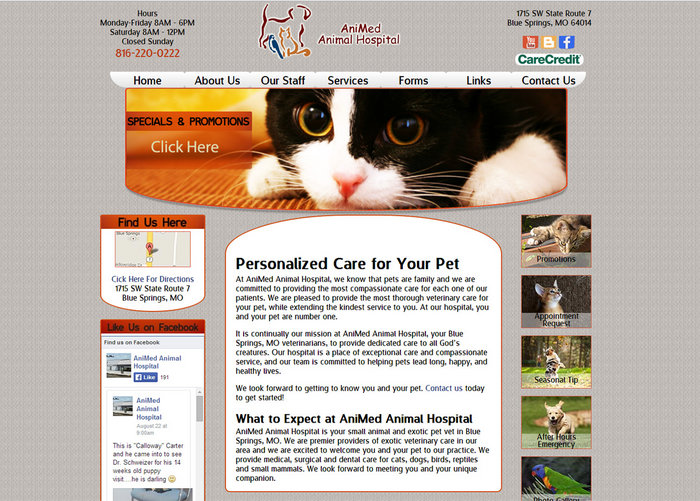 9. Especially Cats in California
What's more appealing to a cat owner than close up images of more cats? They provide a Yelp link to encourage reviews (hopefully good) and provide a wider web presence. Check out the teeth brushing video, which is a nice pin-able image and should bring in traffic from Pinterest.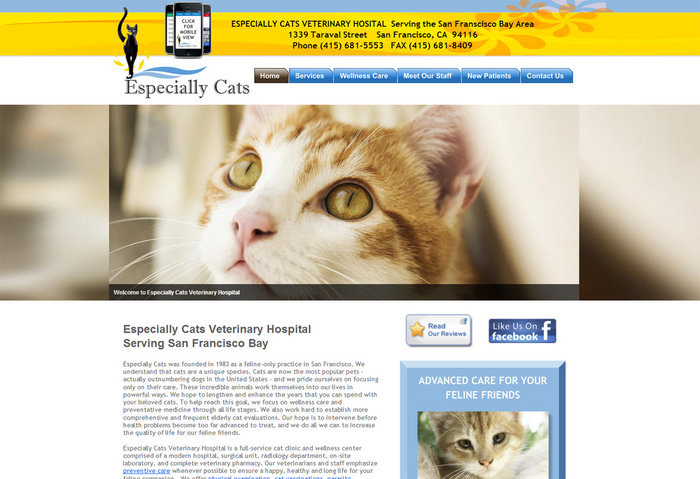 10. Belle Meade Animal Hospital in Tennessee
This is a simple layout with easy navigation. A couple nice features are the pet gallery, where visitors can upload pictures of their pet, and the memorial page where they can post a story about their passed on beloved.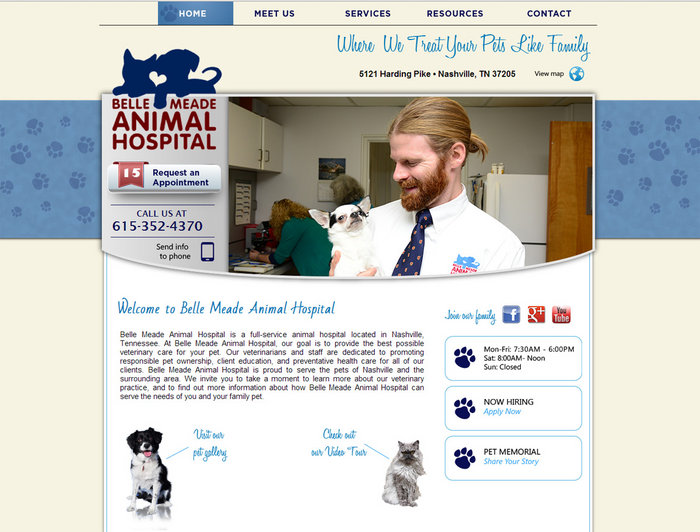 Each of these sites has similar features, but gives a unique impression of the business it represents. If you need a website for your veterinary practice, contact us for help. If you want to teach your cat not to lay on your keyboard, you're on your own.