We told you about the benefits of engaging with posts and photos on Google+, but it can be a great tool for your business' events as well.
Google recently launched Google+ Events, which brings together an invitation service, calendar integration and photo sharing under the Google+ banner. It even has a cool backstory: the idea came to Google executive Vic Gondotra while he was on vacation. Here's what he told Mashable:
"One of the fathers at the end of the trip said, 'Here's my password, here's my email, here's my account' for this popular photo-sharing site. And he said, 'Just log in as me and everybody upload your photos.' Now we're software executives, and we understand this stuff, and we have to share passwords to collect photos? How broken is it that?"
Creating an event on Google Plus
Much like existing event platforms including Facebook and Evite, Google+ Events handles invitations and RSVPs. Plus, Google adds the ability to theme your event page, either using their pre-made animated templates or by adding your own photos.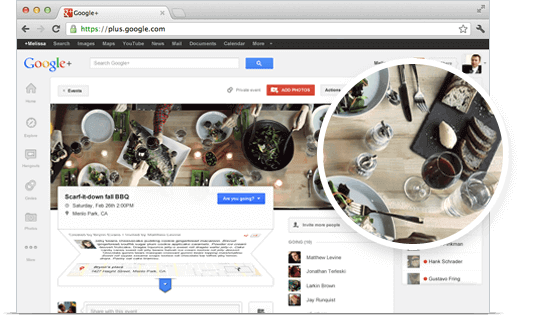 One thing that sets Google+ Events apart is its calendar integration. Any of your guests who use Google Calendar can automatically sync your event to their calendars. Plus, it integrates with your calendar so you can easily check availability while creating the event.
Even if you don't use Google Calendar as your primary calendar, you can set it up to export an iCal file to use with other platforms. Plus, Google incorporates all the standard email notifications for your guests.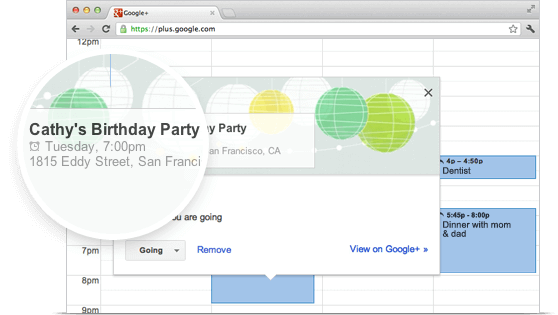 CNET has put together a handy guide to creating an event on the service:
"If you start typing in the box for location, Google will try to assist you by linking the Google Maps entry. You can add a description in the next text box. This area is good if you need to provide special instructions like what to bring, parking, or dress code. Finally you can add the people you want to invite to your event. Start typing a friend's name and Google+ will auto-complete it for you."
Bring your photos together
One of Google+ Events' killer features is the "party mode." If you're throwing a fun, photo-worthy event, Google+ will bring together your photos and all of your guests' photos in one place.
Here's how Google describes it: "Party Mode lets you share pictures and videos you take during an event instantly with everyone at the party. With the Google+ Android app installed, you'll have the option to turn on Party Mode when an event you're attending starts."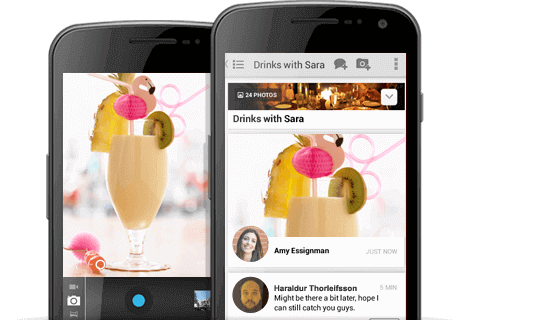 Then when the event is over, all of those photos and videos are in one place on the event page, for you to send out to guests, and to use for any of your business' marketing activities.
There are a lot of services if your business wants to throw a small event, but Google+ has many compelling features. One thing to consider is audience reach — in case all of your customers aren't on Google+. But with features like party mode, it could be a great supplement to a Facebook invitation, or a useful tool on its own.