Dentist Facebook Ads Examples
Take a light approach with little effort – sometimes, the simple ones are the best for the ad. Find a striking image that will stop viewers from scrolling. The intention of the ad is both mentioned in the content and on the image. It helps to use a little emphasis in 'FREE' when capitalizing it in the Facebook text.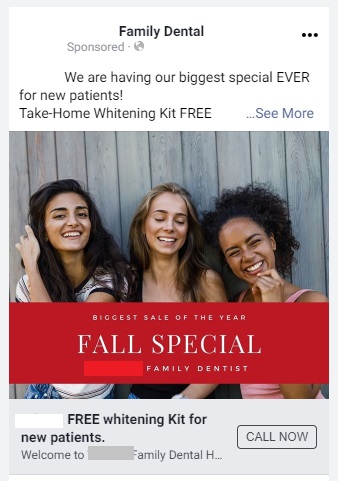 Don't forget to add the 'FREE' all caps in the description below the photo. This one has a 'call now' button – this is a 'reach' type of ad which calls the dentist's office right from the ad. The mobile ad only.
Facebook ad for a dentist – Special Discount Ad

This ad says it all when it comes to perfect images placement and the use of words next to the image. Zoom whitening is a new type of whiting – not everyone is familiar with Zoom technology – so spelling it out helps. Big bold letters that clearly mention the discount – is key.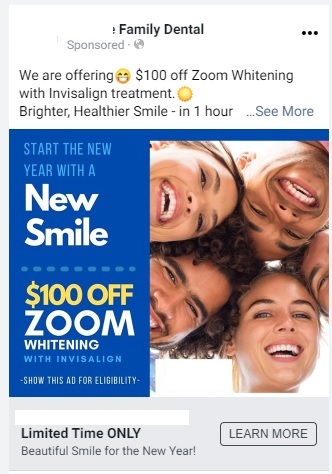 Don't forget to add the url in the area below. Many times branding you url with you logo and image helps. 
Dental Specific Service Facebook ad
Invisalign is one of the leading moneymakers for dentists. It is primarily hands-off with limited in-office dentist visits. Since so many dentists offer this service – competition is very high. The ad has to catch them as soon as they see it. Don't be shy and mention the Invisalign special right away – in every location; image, primary text, and description.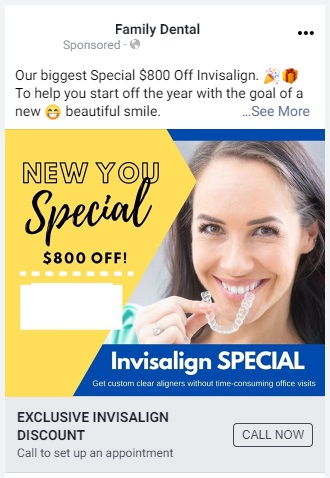 Write a headline to grab attention – I think we did that here in this example. 
Facebook Ads for Dentist

Another way to be to the point. FREE is loud and clear for anyone to see. Having a nice photo to support your intention – bright white and beautiful smile.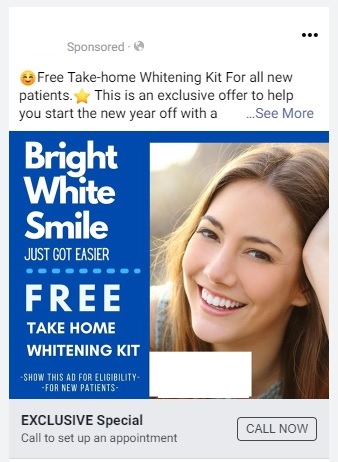 I always add that little emojis to get people to stop and pay attention to the text. It's easier to read the text and breaks up the words better so you can see the keywords; 'free.'
5 Biggest mistakes Dentist make using Facebook Ads
Facebook regulations are getting to the point they will take your ad down and sometimes suspend the account if you violate their terms of the agreement. So here are the few things Not to do. You can learn from my mistakes. 
Do not showcase before & after photos of patients in an ad
No before and after photos. This is a huge red flag for Facebook. Facebook does not want you to show 'unexpected' results – to Facebook, this just means you may be implying 'a negative self-perception.' The best advice is – just don't do it. 
Ad mistakes from a dentist using Facebook ads

Showing close-ups of a mouth – Facebook gets confused and the algorithm really cannot understand what it is looking at and may get flagged for nudity. Yep. Believe it or not this can happen. If you want to use real patients – great -make sure it isn't a close-up of just the mouth. 
Dentist's biggest mistake to violate Facebook Terms
 Guarantee you will make someone look better. This is again the number one red flag for Facebook. This falls under the 'self negative self-perception.' To guarantee someone will look better than they currently are – is like saying where they are is not ideal or undesirable. 
One word never to use in Facebook ads for a dentist
Never use the word 'you' – if you are talking in general – nobody will be offended. When specifically talking to someone directly Facebook calls this 'personal attributes'. Facebook wants ads to blend in with the rest of the new feed and not have ads be feel like a 'personal attack'