Just because a company offers excellent service does not guarantee that customers will flock in droves. Yes, word of mouth can be effective, but it has a rather limited reach. On the other hand, showcasing your work in front of potential clients can significantly enhance your chances of being employed. As a result, having a website is critical for anyone working in the roofing sector.
When it comes to roofing, though, the service can be quite standard. In this case, what you need to do is to advertise your brand successfully. You must accomplish this for clients to pick you over other companies that provide similar services.
To help you get some inspiration, we have made a round-up of 5 impressive roofing website designs. The websites on this list have done an excellent job of promoting their respective companies. Take a look at how they accomplished it.
5 Best Roofing Website Designs
Titan Roofing has built a reputation for providing exemplary service that customers can rely on. Each roofing project is completed efficiently and to a high standard. Furthermore, these ideals are reflected on the company's website.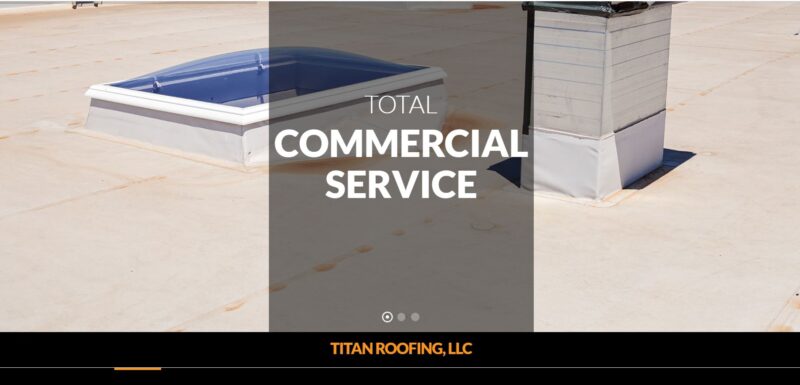 What We Like About It
Titan Roofing's website has a sleek and elegant appearance that does not appear to have been built using a template. At first sight, the text content animation loads without a hitch. Amazingly, its black and orange color scheme is striking without looking tacky. A carousel of photos from the company's previous projects greets visitors on the site. Moreover, the photographs are well-taken so that potential clients can have a close look at the work.
The company's description has all of the value statements that customers are looking for. It mentions the use of high-quality materials, meticulous craftsmanship, cost-effectiveness, and devoted employees, among other things. All of this contributes to the company's reputation in the eyes of the visitors.
Furthermore, a form at the bottom of each page allows you to request a free estimate. You'll also see a sticky button on the side that says the same thing. Thanks to these powerful call-to-action buttons, visitors find it easy to take the next step toward becoming clients.
Testimonials and customer reviews are excellent ways to build a business's reputation. They provide unmistakable evidence that a company is capable of doing a good job. Keeping this in mind, Stephens Roofing & Remodeling prominently displays the review section on its homepage. As a result, visitors and potential customers can see what past clients have said about their work.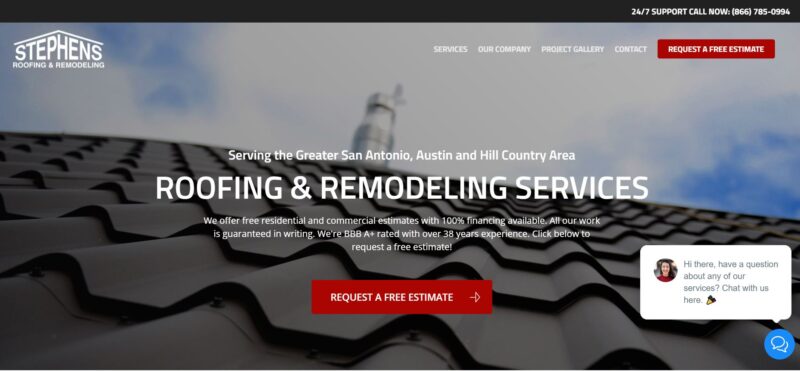 What We Like About It
Stephens Roofing & Remodeling's website is rather impressive. The homepage allows the viewer to get a clear idea of what services the company offers. It accomplishes this by using a bold image of a roof with "Roofing & Remodeling Services" written in bold text. Furthermore, the visitor can get a free estimate by pressing a prominent CTA button.
You'll be able to see why Stephens is an excellent roofing business by looking at their website. Just below the fold, you'll find a list of reasons why potential customers should choose the company. This section is presented using a mix of keywords, logos, and images from previous projects. This kind of presentation is suitable because it is concise, not too text-heavy, and attention-grabbing.
Lastly, there is a section dedicated to consumer feedback. Most customers are well aware that businesses can easily buy reviews. They can even make them up, especially when posting them as text sliders on the website. Google reviews, on the other hand, are fairly trustworthy. Stephens Roofing and Remodeling has 30 Google reviews on their website, all written within the last eight months.
What does this demonstrate? The first is that they have had several successful customers. When a large number of people appear to trust a company, it is reasonable to assume that you can trust it as well. Next, the reviews demonstrate that this firm delivers exceptional service, as seen by its high rating.
When it comes to establishing a great first impression, videos always win out over images and text. Therefore, Roofing Florida initially grabs the attention of its visitors with an interactive video. The website then seals the deal by effectively displaying the company's value.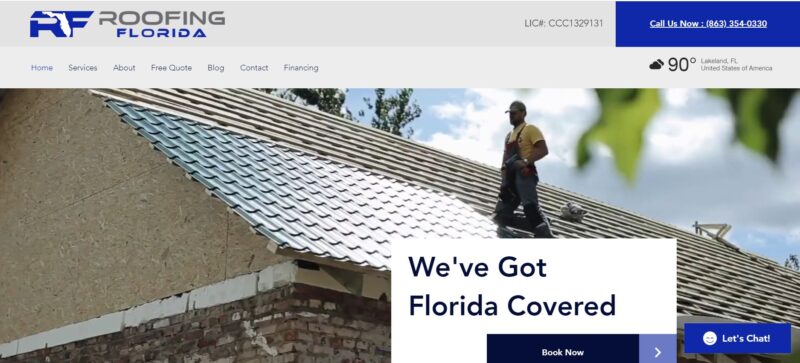 What We Like About It
The homepage of Roofing Florida starts with a video header showing an aerial view of their location. Next, the video showcases some of the company's most well-known roofing work. Then, it proceeds to depict the sorts of weather that people in Florida encounter, showing how well the roof performs in sunny, rainy, and even stormy conditions.
This short video efficiently communicates to viewers that Florida Roofing's work can withstand any type of weather. You can also see the company's pun tagline, "We've Got Florida Covered," in the video.
Another great feature of this website is its project gallery. Each picture of their previous project has a "heart" option so that visitors can let the company know which roof project they appreciate. It is the same as the heart on other social media platforms, with popular projects getting the most number of hearts. This interactive gallery makes the audience stay longer on the page.
Potential customers should be aware of upcoming severe weather changes since roofing is strongly impacted by the weather, particularly storms and hurricanes. They may then plan for it by hiring a roofing company to strengthen or repair their roofs. That is why Roofing Florida made the wise decision to include an interactive storm radar on its webpage.
Another immersive feature of this website is the project gallery. Visitors can "love" each photo of a previous project to tell the company which roof they prefer. This is pretty similar to using the 'like' button on social networking platforms, as the most popular projects are the ones that earn the most votes.
Scudder Roofing is a company that specializes in handcrafted roofing. Its website has an eye-catching design that exudes professionalism and quality craftsmanship. These are precisely the kinds of elements that a potential client would expect from a roofing business.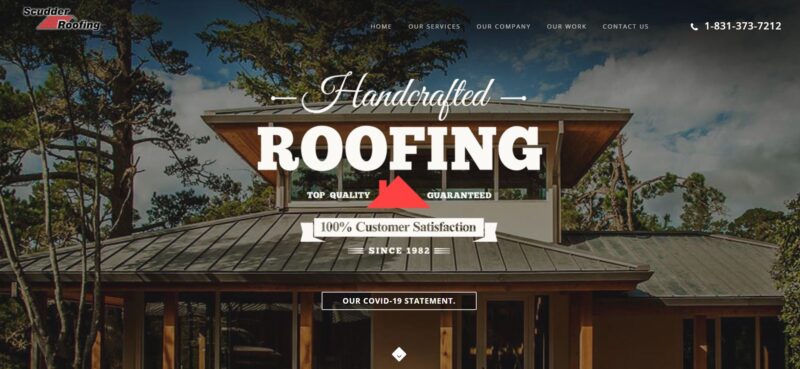 What We Like About It
The header of this website is stunning, as it features a beautiful roof design. The designer used several typefaces and other design elements to express the company's value statement. Therefore, it has a professional appearance to it, which makes it compelling at first glance.
Below the fold, visitors can find a contact form to request an estimate. Potential consumers are able to save time and effort by seeing this call to action right under the header. Furthermore, it does not waste any time in requesting that visitors contact the company. As a result, those who are already familiar with the website can immediately begin acquiring its services.
However, for those who need convincing, the reasons why they should hire the company are listed below the contact form. It begins with a claim that Scudder Roofing is the most dependable roofing company in the area. Following that statement comes a video explaining the company's key selling factors. Again, while words and images can be appealing, nothing gets the message across faster than a video.
As you scroll down, you can see more reasons why potential consumers should choose this firm for their roofing work. Because the website describes each selling point, there is a lot of text on the homepage. However, the designer has also used beautiful photos of the company's previous work to break up the text. What's more, even though each page has several images, the response time is still incredibly fast.
Last but not least on our list is Midwest Roof Renovation, which specializes in addressing roofing problems. The website makes this service clear by emphasizing repair statements and other relevant information.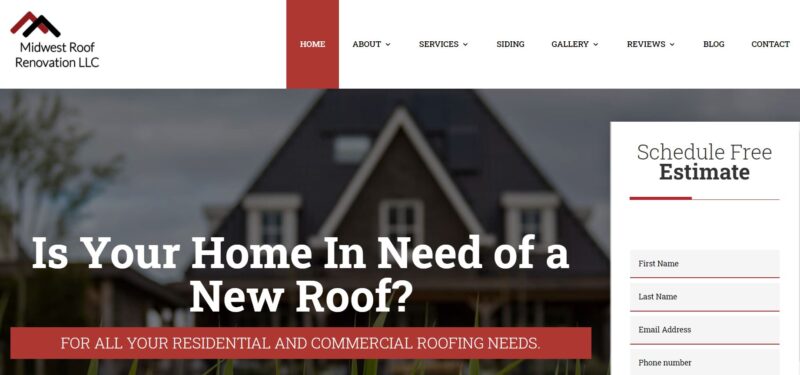 What We Like About It
The first thing you'll notice is a header that says, "Is Your Home in Need of a New Roof?" The question quickly establishes what type of service the company provides. Asking a question is already an excellent way to capture the visitor's attention, but it has a more substantial impact when written in large, bold letters.
Furthermore, the company needs to collect email addresses from visitors who are already interested in their service. As a result, the website provides free stuff for you to download in exchange for email addresses. If you're a homeowner, their free eBook on roof maintenance could come in handy, so giving them your email address is a fair trade.
The site's next section contains a brief but compelling description of what the company can do for you. The headline uses a scare tactic here since it cautions householders that even a small leak can lead to significant damage. It then explains why the company's roofers are capable of providing both quick and long-term remedies to such issues.
Conclusion
The way these projects are presented on the website is what sets them apart. Besides professionally shot pictures, a website should also promote the company's ideals and values. Furthermore, the site should demonstrate how the team completes projects on time and within the budget. This is when testimonials and reviews come in handy. Other distinctive components, such as a blog and weather radar are optional additions that can help your website stand out.