So you've got that great (Lucid Crew designed) website. You have a dynamic presence on Facebook and Twitter. You pretty much have the Internet taken care of, right? Not so fast.
You've probably heard of Pinterest. You might even be on it, repinning your favorite recipes, crafts and pictures of puppies. But, it's increasingly important your business build a dynamic Pinterest presence as well.
Why Pinterest is important
This June, Pinterest referral traffic surpassed Twitter, StumbleUpon, Bing and Google referral traffic, according to social sharing service Shareaholic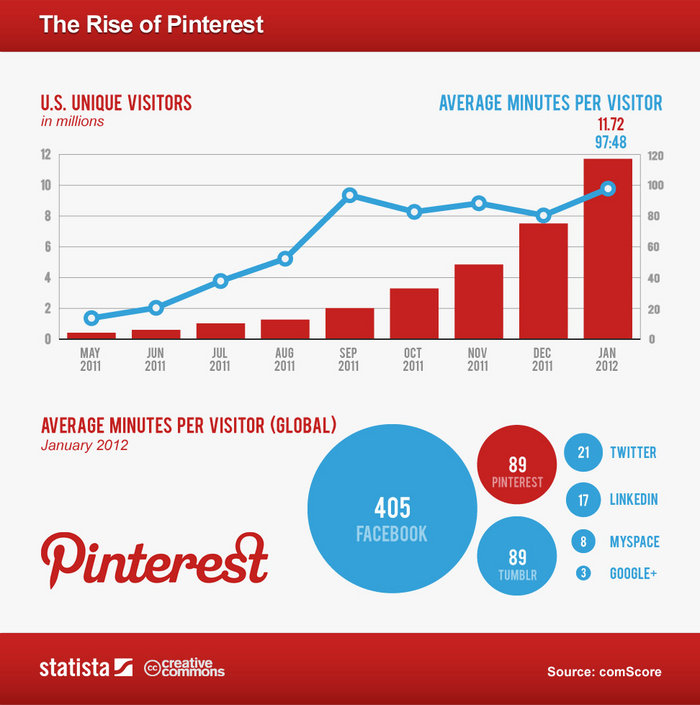 Shareaholic points out the Google numbers don't include search (organic) or Google+, referrals. However, with Pinterest already surpassing Google+, LinkedIn and YouTube referral traffic combined, it's important to take note.
How do I get started?
If you sell a product online or off, it's not hard to build up your brand on Pinterest. Many successful brands post pictures of their products. It's worth considering what will get repinned by others: try to stylize your shot in a way that's more appealing or more likely to go viral. And be sure the post links back to a page on your site with more information about the product.
Even if your business doesn't sell a product that's inherently repinnable, you can still build your brand. One great example is the Today Show . In addition to boards showing the hosts and things from each day's show, they update a pinboard showing motivational images. It reiterates their brand, while offering the chance to go viral and drive traffic.
Know the demographics
Even with Pinterest's explosive growth, it still has a fairly unique user base. According to an analysis by social media agency Modea, 68.2 percent of Pinterest users are women, and half of the service's users have kids.
Pinterest users average household income tops $100,000 a year, and top brands skew upscale, including Whole Foods, West Elm and Nordstrom.
As far as age, most Pinterest users fall between their 20s and their 40s.. with the biggest group in the 25-34 range.
Modea goes a step farther, with an infographic showing users' favorite sports, outdoor activities, even TV Channels.

All of this is helpful in determining what products and services you can best market on Pinterest, and might help give you a good idea of what will get you the most repins.
Next steps
If you haven't already, now is a good time to sign your business up on Pinterest. The site is still invite-only, but chances are you know somebody who can invite you. If not, you can request an invite from Pinterest itself. If you're a Lucid Crew client, let us knowand we will invite you.
Once you have your invite you can connect to your company's Twitter or Facebook accounts. That will also drag over your profile picture and information.
After that, it's as easy as adding the Pin It! button to your browser and starting to pin images from your site. You can also build "pinboards", grouping specific types of images.
If you still aren't sure what to do, Pinterest has put together a great list of resources (conveniently compiled into pinboards) on its Pinterest for Business account.
Happy pinning!