Facebook has made it even easier to hone in on specific customers from your Facebook Page. Instead of pushing posts to all of your subscribers' timelines, you can now target people by things like gender and relationship status. Mashable breaks it down
While previously Page admins could only target by language and location, the company has added new options, including:
Gender
Interested In
Relationship Status
Education
Workplace
A Facebook rep gave the following example of how a marketer might use the new option: "Say you want to target an audience for a back-to-school campaign. You can drill down to college kids 18 to 21, so your post will be seen more by that age group."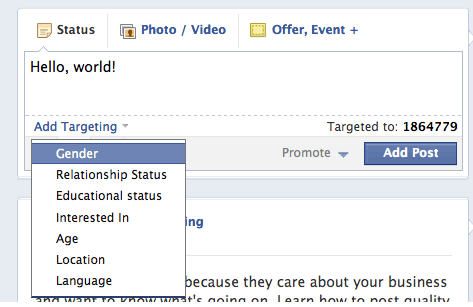 This could be a great way to target people with messages about specific promotions or products that wouldn't appeal to all of your Facebook subscribers.