A website is vital for any business to thrive. This statement is true for most modern companies, and landscaping is no exception. In today's era, having a solid online presence is fundamental to landing new customers, as most people prefer to research the company before working with them. Therefore, a good website can be the first step towards building your relationship with a client.
With a landscaping website, you can't get away with doing a shoddy job since the design of your site will reflect the quality of your service. As a result, you need a top-notch interface and content to showcase your expertise.
In this article, we have listed some of the best landscaping websites out there to help you.
Highlands Landscaping has taken a traditional approach to website design. They have not taken many risks with the aesthetics and gone for a professional design with stunning graphics paired with an easily navigable interface.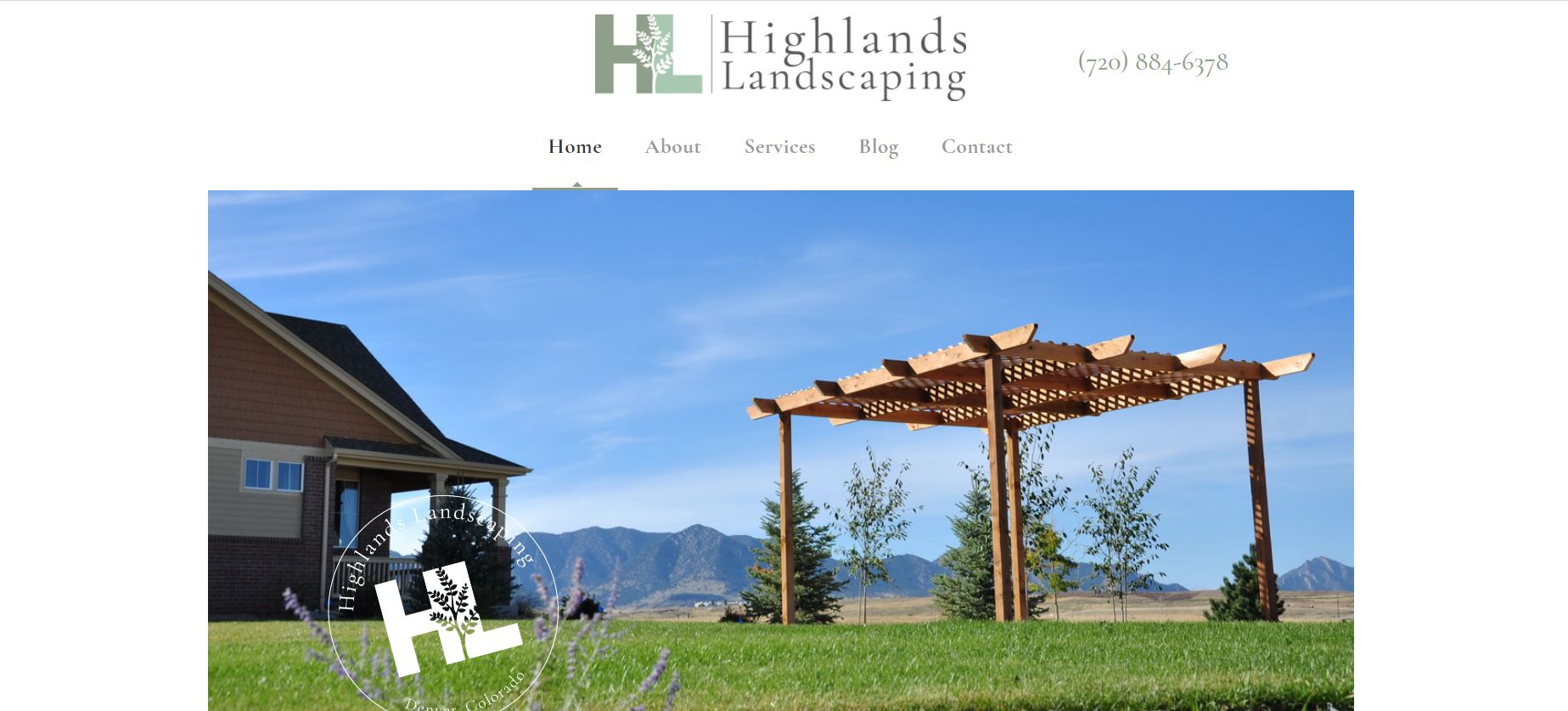 What We Like About It
The first thing you notice about the website is its header. They have used high-definition pictures, presumably from past projects. These pictures give an idea of how the company approaches landscaping. 
Next is the stunning logo that has been strategically placed in the top middle position to catch your attention. The navigation menu is nice and compact, with only a few options that make it accessible. You won't even have to keep scrolling up to get to it!
They also have an About Us section on the homepage, briefly introducing their beliefs and work ethic. You can take a look at some information about their staff by clicking on the link there. There is also a section for testimonials containing detailed feedback from previous customers. This adds to the credibility of the business.
The next section is dedicated to their services. You can access any service by clicking on it. Following that, we have the Contact Us option, which allows you to book a consultation with the company. This appointment includes getting an estimate and is entirely free. The footer is pretty basic, with links to their social media accounts and contact information.
Kiefer Landscaping and Nursery has one of the most aesthetically pleasing websites we have ever come across. The earthy color palette mixed with a comprehensive content display gives the whole thing a premium look. The cherry on top is the ease with which we could navigate the entire website.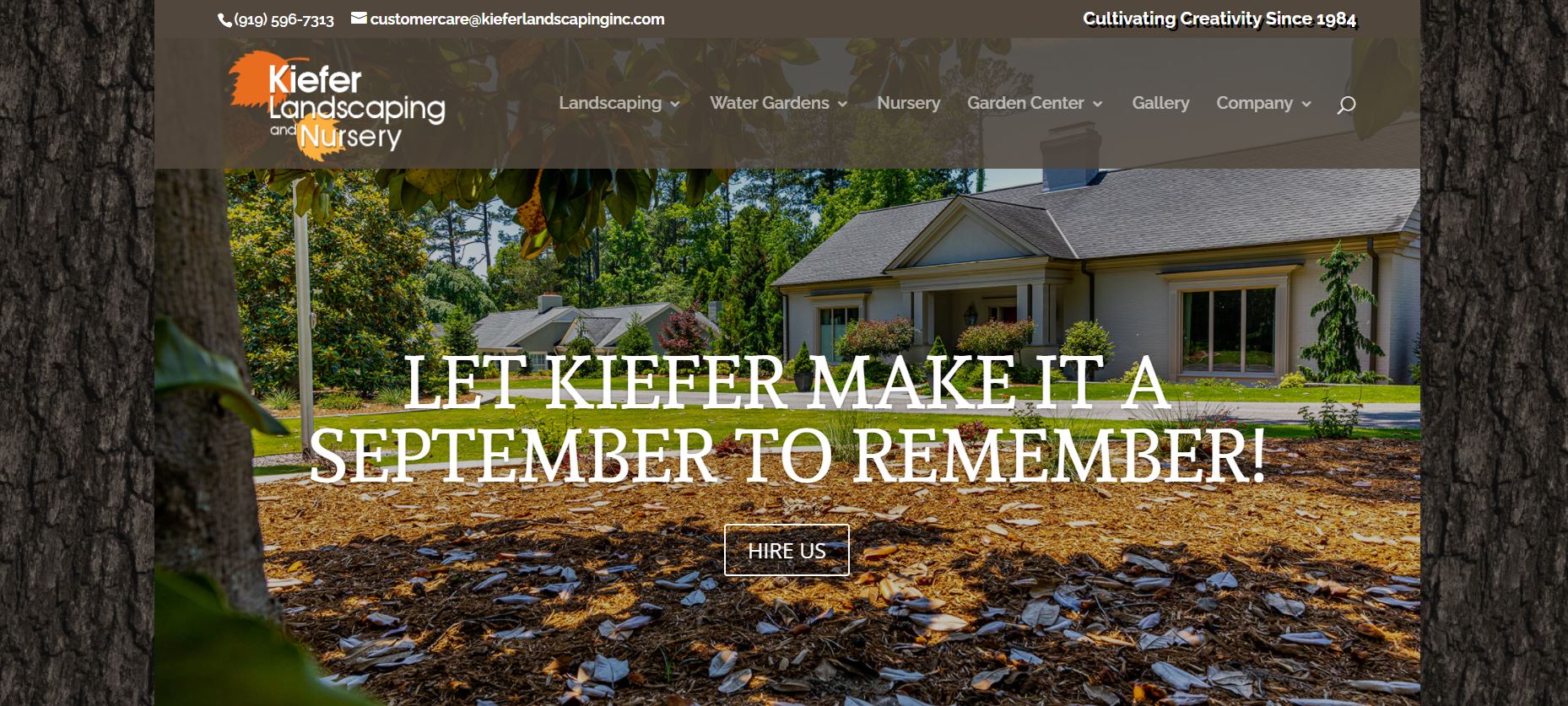 What We Like About It
Although Kiefer offers a lot of services, they have managed not to flood the top menu with options. Instead, they grouped the relevant links, giving the menu an organized look. You can also see their email and contact number there.
This website's header is a sliding one, with pictures of their work and prominent call-to-action buttons. Next, we have their services along with brief explanations for customers' convenience. Customers can click on these links for more detailed information.
The next section covers the opening hours for their nursery and garden center. They have displayed all their certificates below this part. You can even sign up for gardening tips, exclusive coupons, and video tutorials. All you have to do is enter your information in the relevant section. The footer of the webpage contains all the phone numbers, email, and locations.
Staying true to their name, Exotic Gardens has a website that is just as exotic. The modern approach paired with a soft color palette has certainly paid off. The website is also relatively comprehensive in terms of information.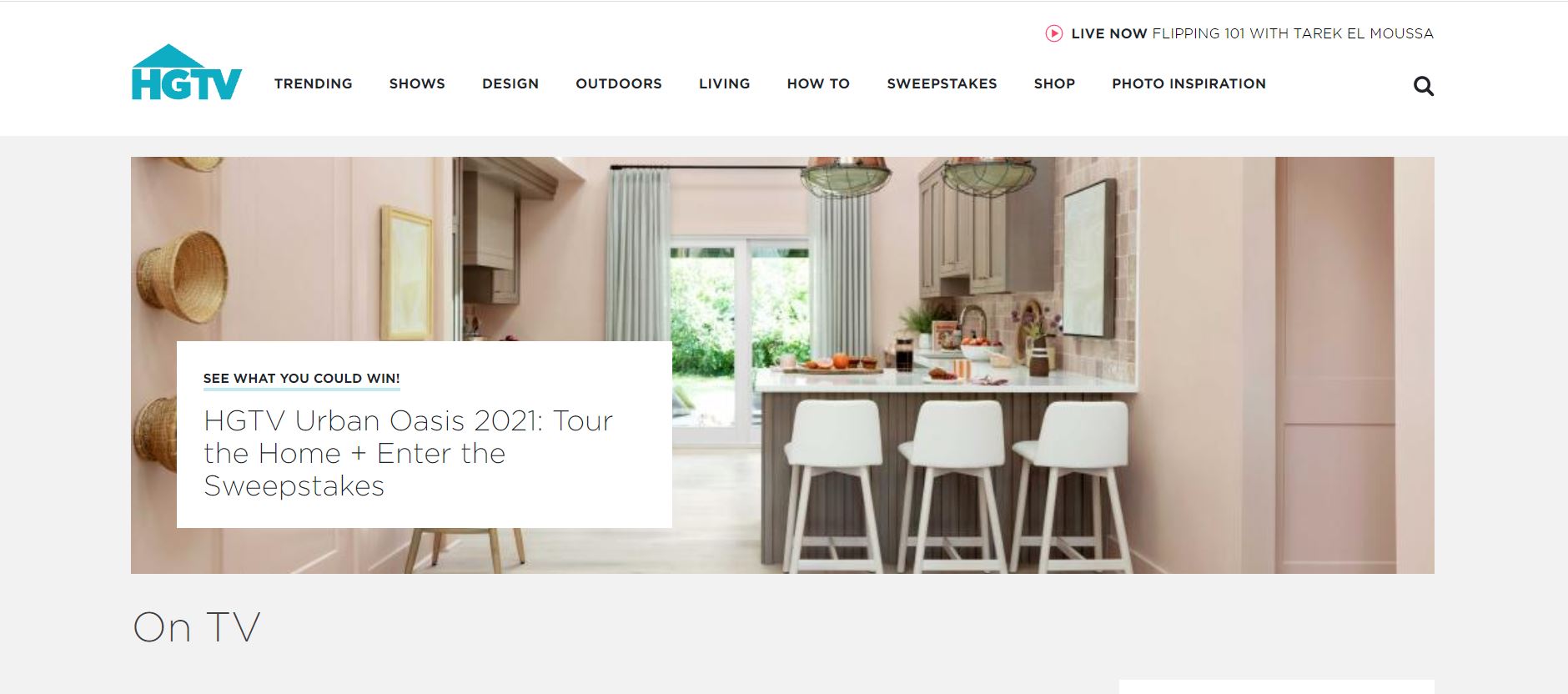 What We Like About It
Exotic Gardens has broken away from the tradition of keeping the menu at the top and following it with a banner picture. Instead, the company has put the image at the top and followed that with the menu. The menu is simple with links for About, Services, About, Gallery, and Blog. They have used the contact option as their call-to-action.
The next section covers their history and how they do what they do. It also includes a section showcasing the Exotic Gardens' previous work. You can see their service area through their website. This is followed by two sections explaining said services and offering a free consultation.
The footer favors a solid black theme. It has the Exotic Gardens logo along with its contact information and social media links. They also have a specialty service section that you can use to get more details about their services.
Mulkern Landscaping & Nursery is the perfect example of not needing flashy effects to pull in visitors. Their clean design is elegant to look at and easy to navigate. They have over 40 years of experience, and it shows through their website design.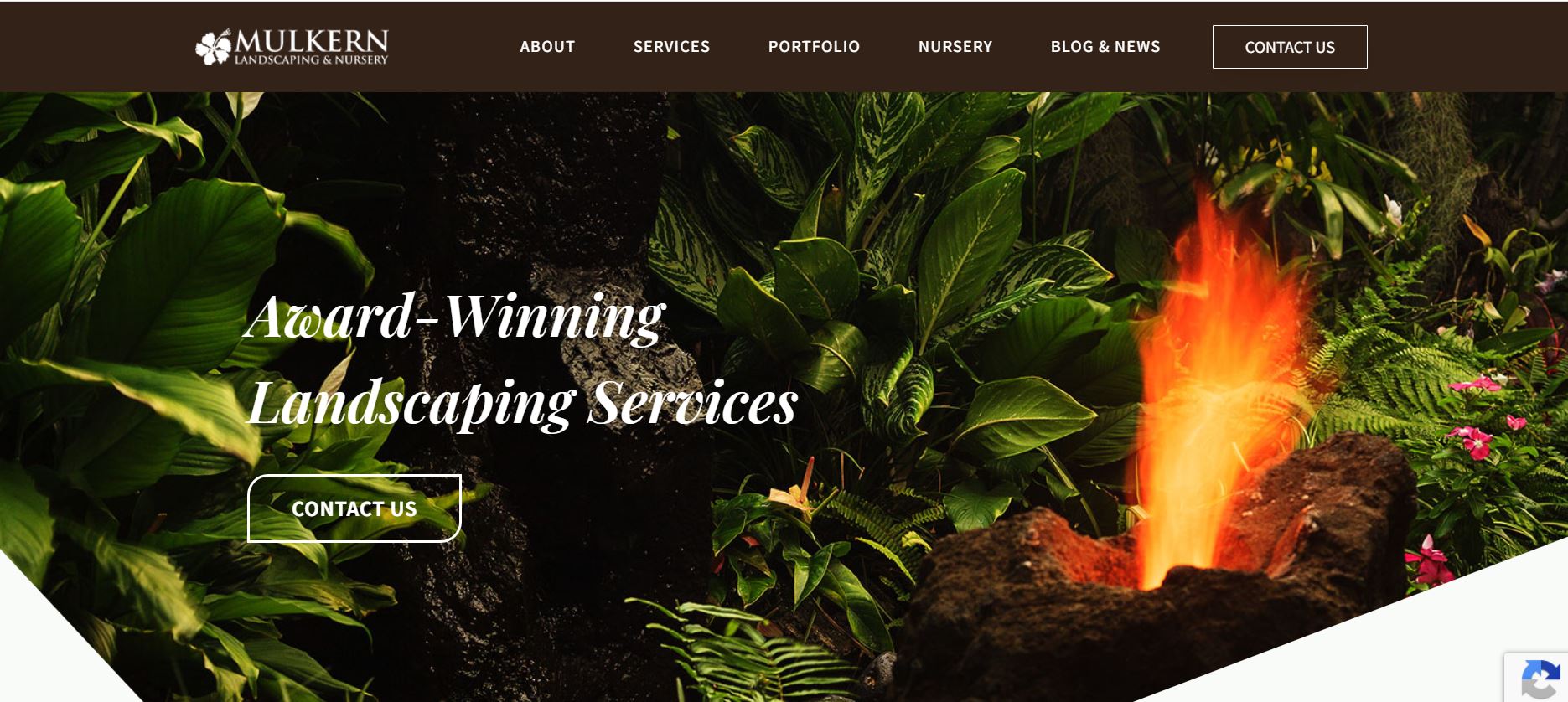 What We Like About It
Mulkern Landscaping website has chosen a sticky navigation menu that stays with you as you scroll down. It saves you from the hassle of scrolling back up when you want to access a link. As to the menu itself, it is pretty simple with options for About, Services, Portfolio, Nursery, Blog, and News. They have only one call-to-action, which they have displayed in the menu in the form of Contact Us.
This is followed by a slideshow of the work they have done over the past years. Below is a brief introduction of the company accompanied by more pictures. They also display testimonials from their previous customers. The next two sections focus on their services and the area where they offer their services.
Lastly, the footer is simple and displays their logo and contact number. It also has links to their Facebook and Instagram handles. 
The Garden Builders website is another example of a great website. It is fairly comprehensive and aesthetic while maintaining its functionality. The graphics are an incredible touch for showcasing their expertise.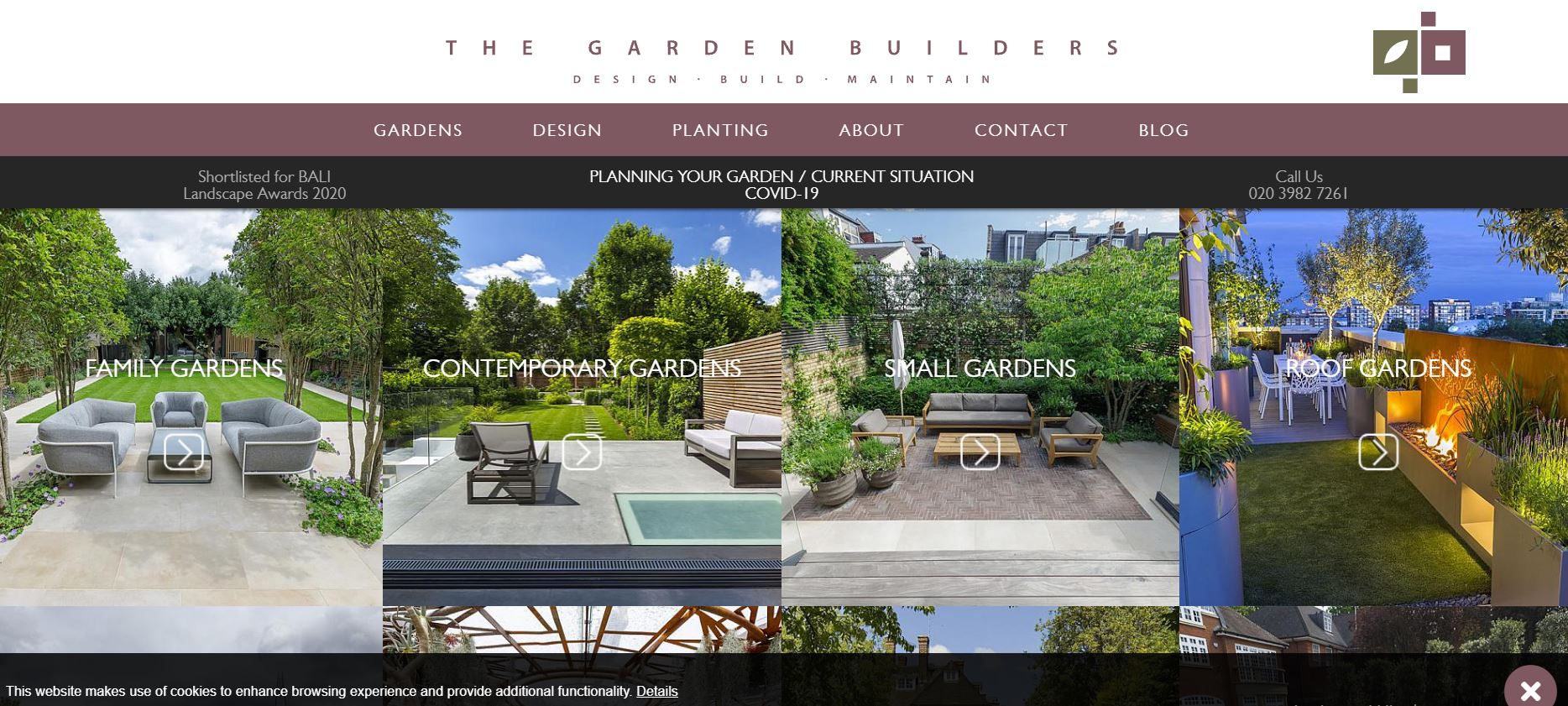 What We Like About It
Their header is a collage of pictures of their previous projects, captioned with precisely what type of landscaping it is. You can learn more simply by clicking on a specific photo. Plus, the sticky navigation menu is incredible for going through the website. 
The next section covers a few questions people might have about the business: why they need landscaping, how The Garden Builders work, costs, and contact information. 
They also have a Featured Gardens section which they use to showcase their work. You can receive news and offers from this business by clicking on the given option. Moreover, they have all their awards and certifications displayed at the bottom, which serves to increase their credibility.
Our last entry on this list is a client-centered Raleigh landscaping company. The website has a fun, modern design, and they have chosen a pastel color palette to go with it. The site is easy to navigate, and the content has been divided into relevant sections.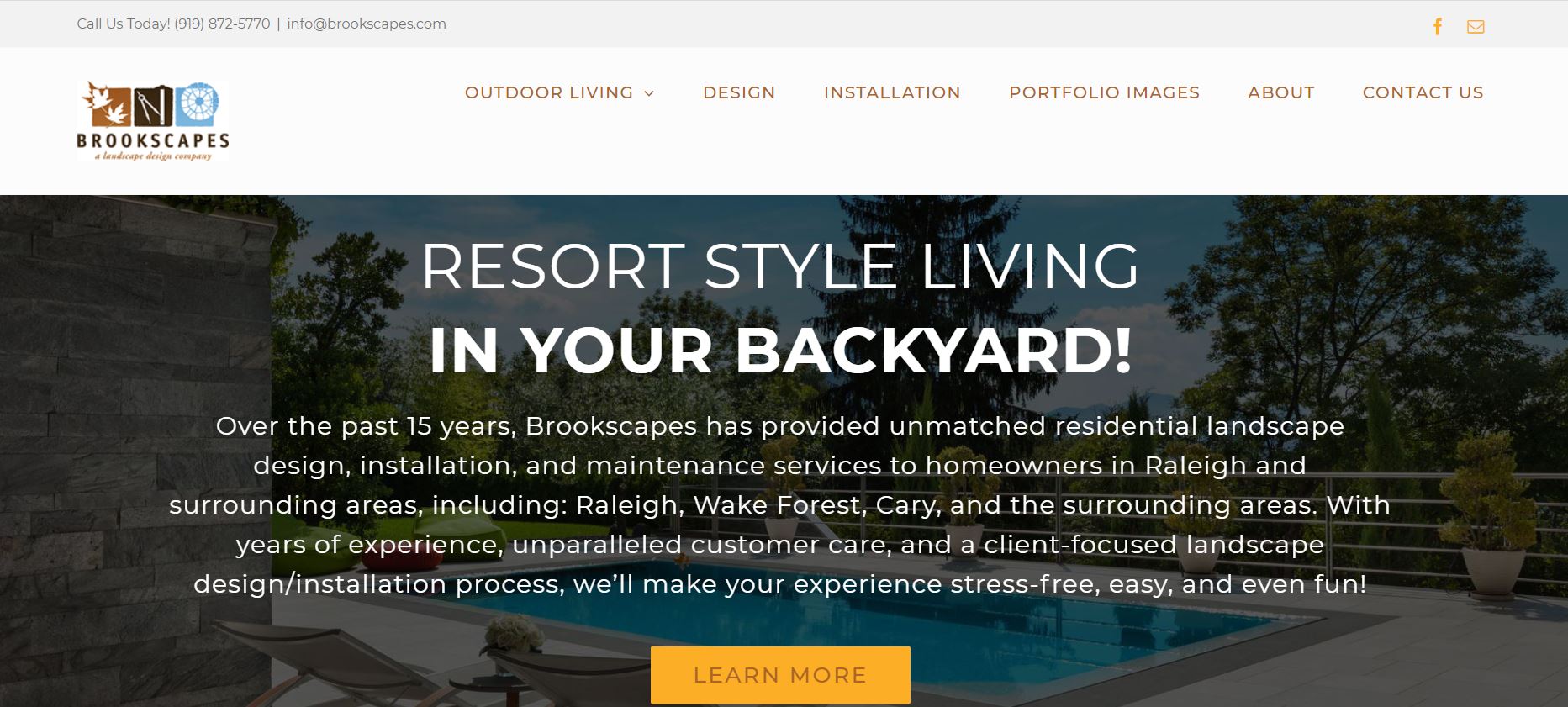 What We Like About It
The top menu has options for Design, Portfolio Images, About, Installation, Outdoor Living, and Contact Us. The header consists of a banner image of a swimming pool with information about the company over it.
Next, we have a section encouraging clients to contact them through a clear call-to-action button. They have also displayed their services, so you can click on them for more information.
The website has a section dedicated to snippets from their portfolio. If you wish to take a more detailed look at a past project, you can simply click on it. Lastly, we have the testimonial section featuring customer reviews.
Conclusion
Landscaping is a business of aesthetics, and your website needs to reflect that. In addition, the aesthetic value of your website is an indicator of how your company will perform in the field. That is why we recommend investing in a professional website. 
You have to focus on displaying your work there through the use of high-quality photography. A clear call-to-action can go a long way in capturing your customer's attention. Hopefully, we have helped you a little in coming up with ideas for your website.