Best Practices for Hair Salon Website Design
Hairstyles have the power to make or break a person's personality. This is why most people are picky about who they trust to handle their hair. In the age of online marketing, having a robust online presence goes a long way. People use websites to find out about products, services, and locations, among other things.
Here are some unique considerations that hair salons should consider when building their website:
Showcasing your portfolio: Highlighting your team's skills and past work through photos and videos can help potential customers better understand your salon's style and quality of work.
Booking appointments online: Making it easy for customers to book appointments online can save time for the salon and its clients.
Product catalog: If your salon sells hair products, having a catalog on your website can make it easy for customers to find the products they need and make purchases.
Salon services information: Clearly outlining the services offered, prices, and any promotions or special packages can help potential customers better understand what your salon offers.
Customer reviews and testimonials: Including customer reviews and testimonials on your website can help build trust with potential customers and showcase your salon's reputation.
Virtual tours and 360-degree views: Providing virtual tours or 360-degree views of your salon can help customers get a better sense of your salon's atmosphere and aesthetic.
Mobile optimization: Optimizing your website for mobile devices can provide a seamless experience for customers browsing on the go.
By considering these unique factors, hair salons can build a website that effectively showcases their brand, services, and products, making it easier for customers to choose their salon for their next hair appointment.
Top 6 Hair Salon Websites
As a hair salon owner, your website can help establish trust with potential customers. A well-designed website is more likely to attract customers than a hastily put-together or bland site. If you efficiently portray your salon's expertise, the chances of landing an appointment increase exponentially.
We have got a few websites you can use for inspiration to come up with unique ideas. Read on to find out more.
The 850 salon website has an interface just waiting to draw you in! Everything has been designed to enhance user comfort with a simple color scheme and an even more straightforward navigation style. All the information is displayed upfront, but you can access details through the menu bar at the top.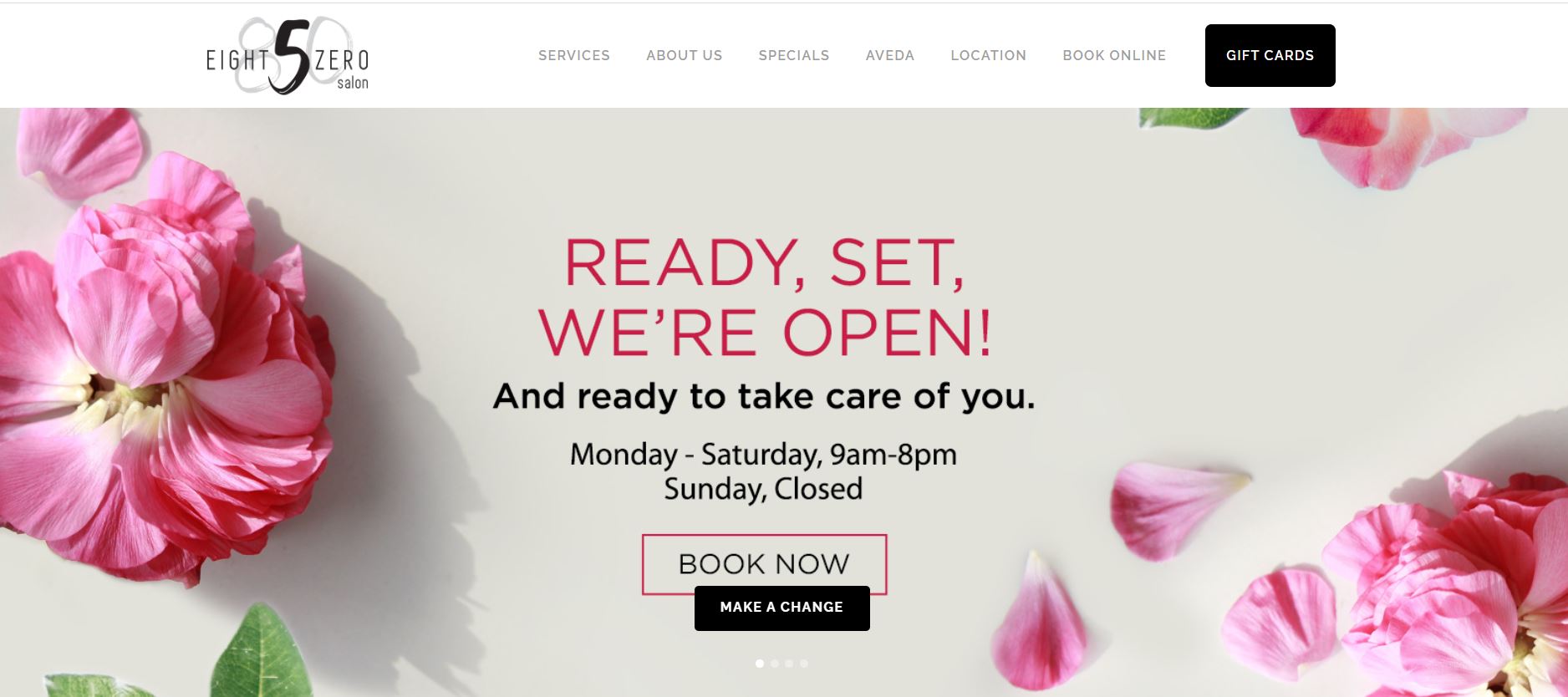 What We Like About It
As soon as you enter the website, the website's sliding header greets you with the option of immediately booking an appointment. However, if you wish to look around before deciding, you can scroll down to see the other sections.
Further down the page, you'll see options for different packages, salon updates, and staff information. You can click on these and be redirected to the relevant pages. Alternatively, you can access the entire website through the menu at the top.
Additional information, such as office timing and location, is mentioned at the bottom. You can access other pages like About Us or Contact in the bottom menu.
Perhaps the most innovative option is the gift card feature. Visitors can gift hair salon services to their family and friends. This ideal offer will entice customers and increase exposure around Christmas or birthdays.
Jet Rhys has an easy-to-use website that utilizes state-of-the-art design techniques. The site has excellent visuals to pull the clients in and provide all the information they are likely to need while choosing a salon. Furthermore, they have designed their website to be interactive, allowing the client to easily access the information and contact them with a simple click.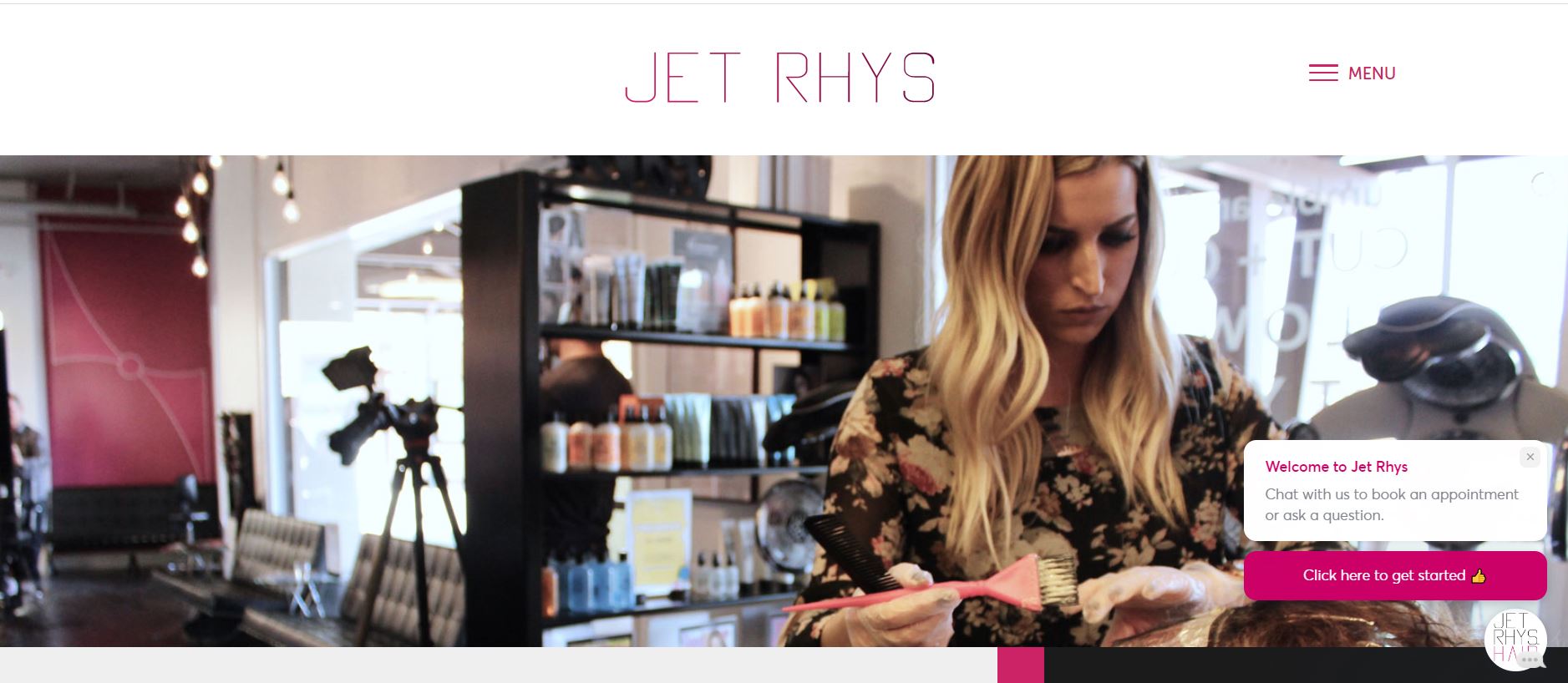 What We Like About It
The website welcomes you with scenes from within the salon, showing the staff hard at work. All these scenes are depicted in the form of a sliding header. The pink and black color scheme is easy to look at and isn't too in your face.
Next, the website showcases the stylist introductions, the salon's location, and the call-to-action button for booking an appointment. The following section is about the media sites that have featured them. We also have customer testimonials, dates, and pictures of the salon's interior.
Furthermore, they have a section dedicated to all the services they offer. You can click on the service you need to see what it entails. You may also request an appointment via e-mail or phone. The options are present just below the services section.
The Fabio Doti website catches your attention with its sleek design. As soon as the website loads, your eyes are drawn to the picture of two models and the salon's claim of being the most luxurious salon in NYC's financial district. This builds anticipation for the rest of the website.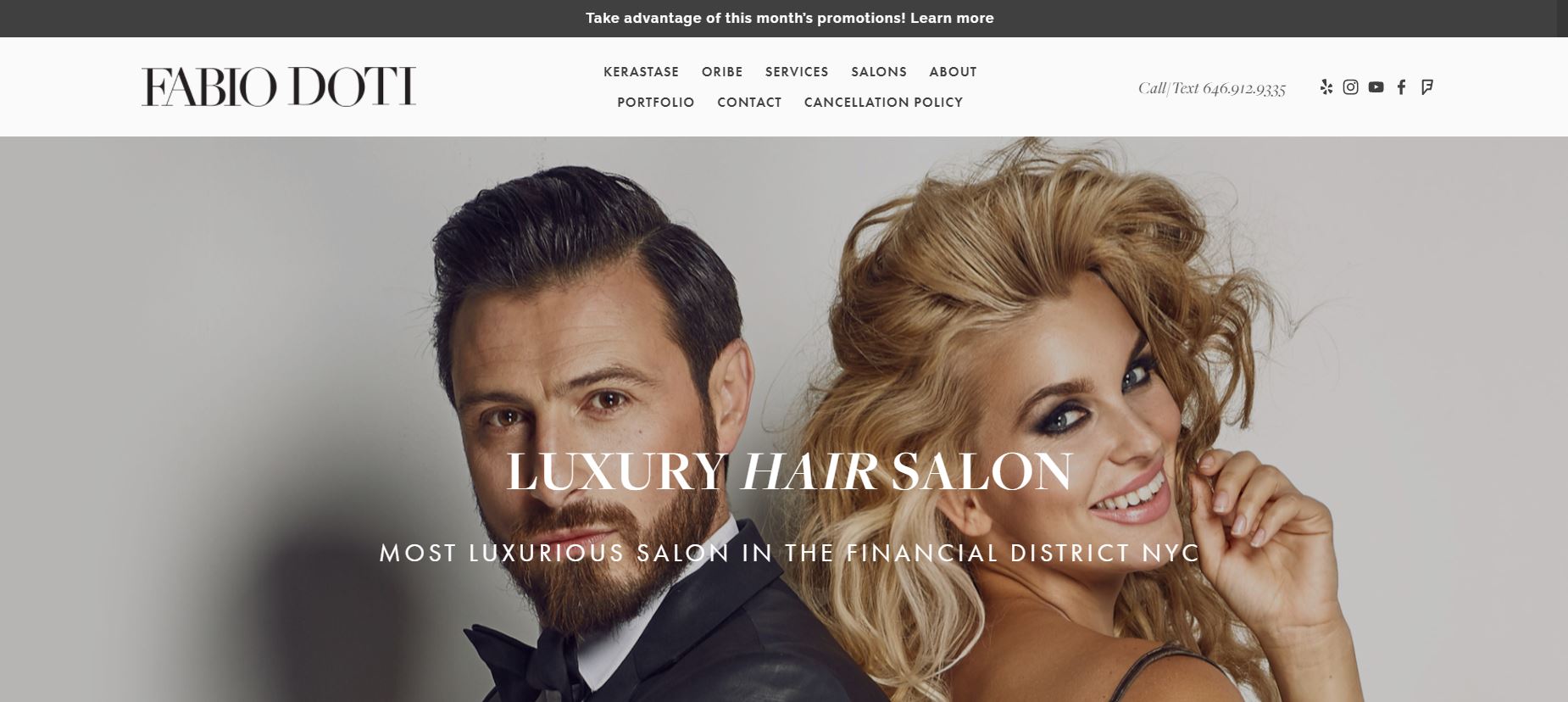 What We Like About It
The website has a simple navigation menu with all the links to different sections at the top. These links redirect you to anything you want to know with just a click. This includes stuff like the services, cancellation policy, and customer testimonials. We also appreciate the announcement ribbon at the top, relaying information about active promotional packages and price updates.
The services have been divided into women's hair, men's hair, hair color, and treatments. The next section covers details about the salon, such as its reputation over the years and the brands its stylists use.
Scrolling down, there are options to access information about their sessions. In addition, clicking on any link leads to a page for booking an appointment.
Further below are HD pictures showing the magic the salon has worked on their client's hair. There are also links to their social media accounts for those who wish to take a closer look.
The Metropolis Salon has a stunning website dedicated to making it easy for clients to access their services. As soon as you enter the website, there is a pop-up with promotional offers for new clients. The website has a bold interface, the first part of which is taken up by a menu bar and a welcoming picture with a call-to-action button.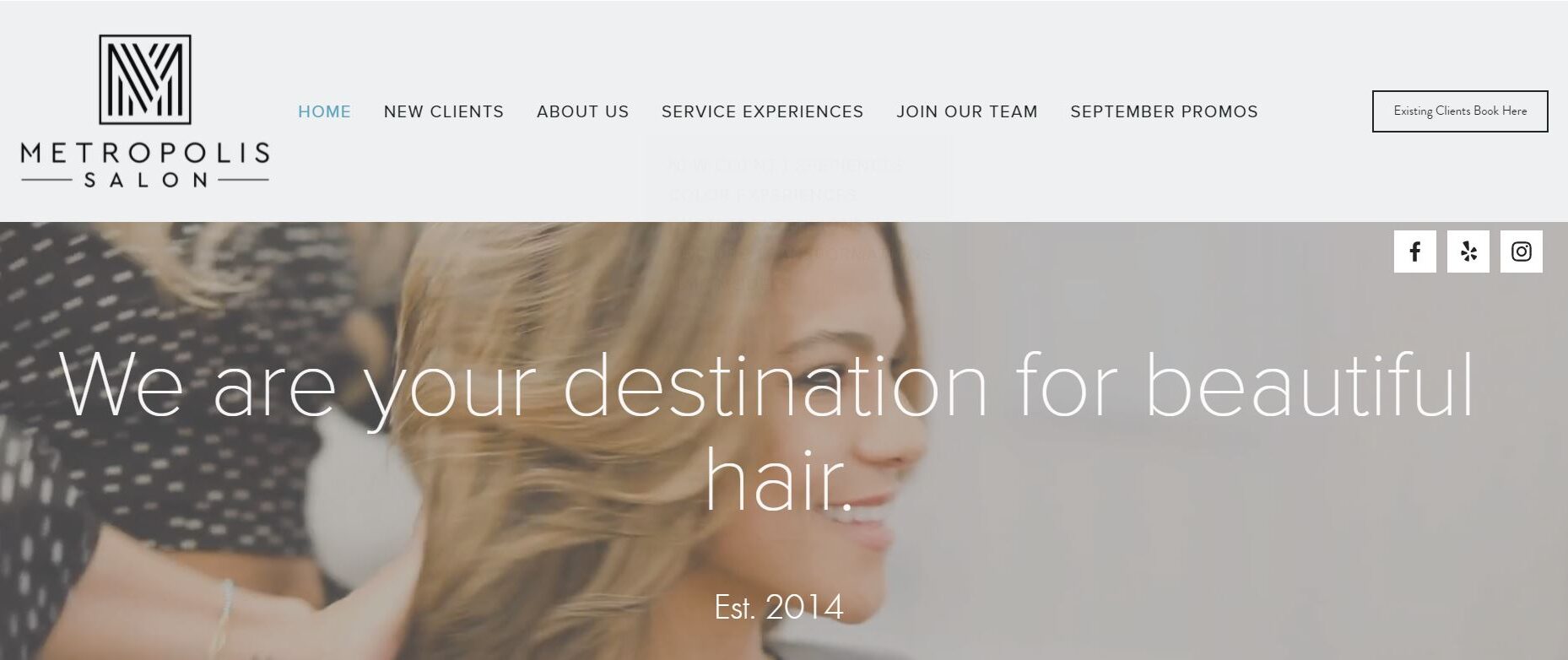 What We Like About It
The feature that makes this website stand out is that there are two options to book an appointment for old and new clients. You can use the top menu to access testimonials, information, services, promotional packages, and anything else that might be necessary. The info section on the home page offers details regarding the salon and its location.
The booking process is depicted as having three steps: choosing your stylist, selecting a service, and booking your appointment. The following section features a testimonial and the salon's specialties.
The website has a simple interface with call-to-action buttons to book an appointment, contact them, or even join their team. The rest consists of their social media links like Facebook, Instagram, and Yelp.
The Fringe Salon website immediately draws you in with its sophisticated design. The web designer has chosen a white background color that accentuates every transition and picture on the website. In addition, the top menu is made simple with accessible options to make navigation easy.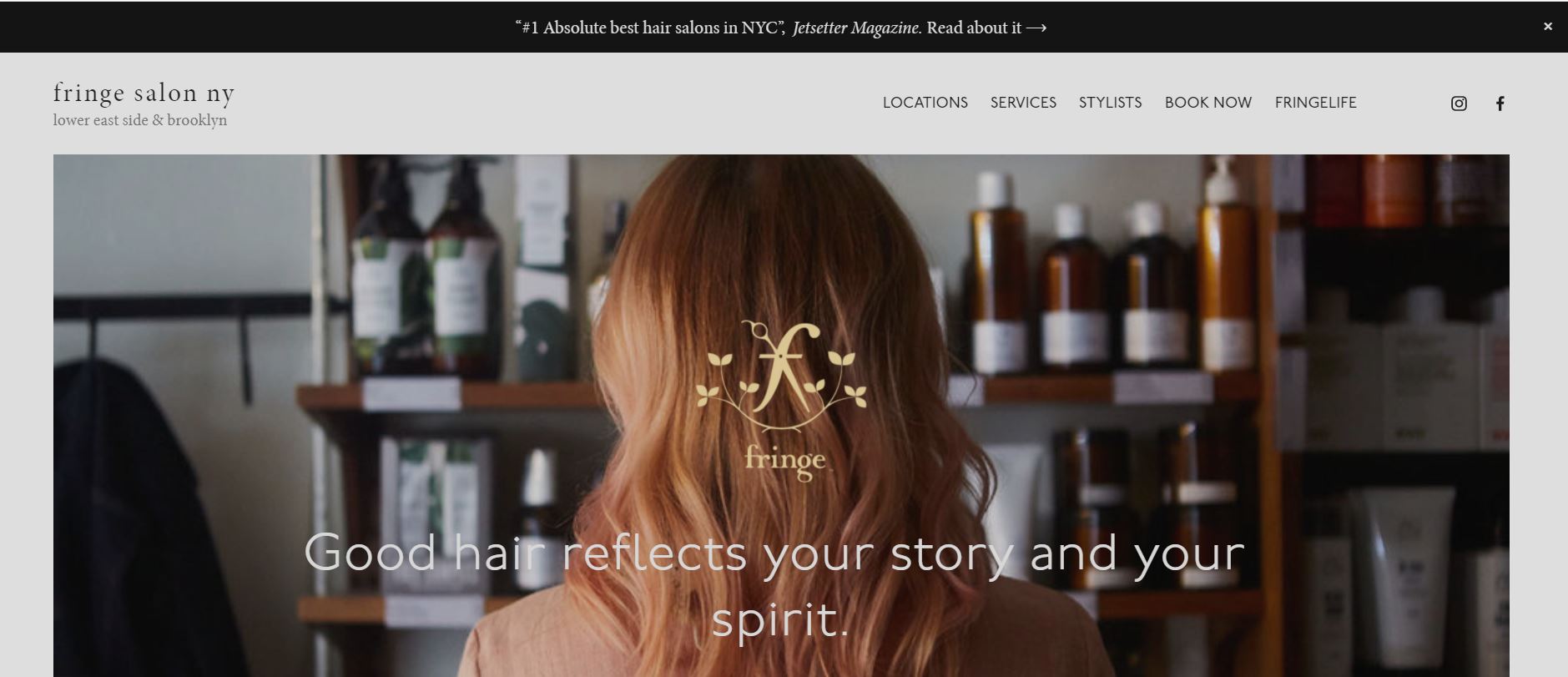 What We Like About It
The Fringe Salon website has the standard top menu with information about the stylists, locations, services, and appointments. The top menu is there for ease of access. There are also social media links to Facebook and Instagram.
Next is the header picture, the business logo, and links for their locations. Below that, they talk about their specialties along with a link to their services. You can also choose to subscribe for the latest news regarding the salon.
Their most unique feature has to be the FringeLife. It is a space for beauty, style, and wellness consisting of articles, events, and a shop for hair products. This attempts to increase client interaction and build a great relationship with them.
Regarding testimonials, first, we have the ribbon at the top, which you can click on to read a full review by Jetsetter Magazine. Lastly, we have pictures of satisfied customers showing off their newly styled hair.
The Parlour Room website has a minimalistic design that draws in customers without fancy headers or complex visual effects. The defining feature of this website is the hair products shop.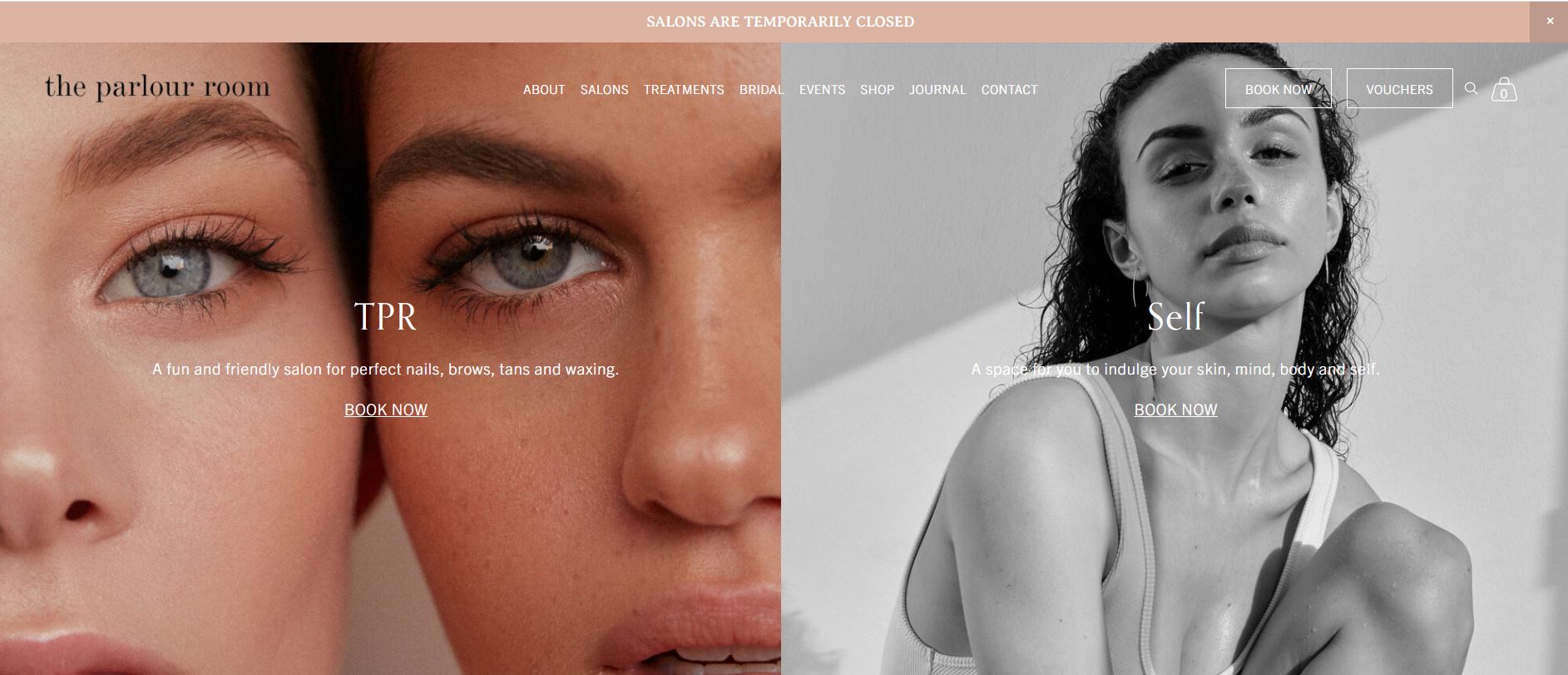 What We Like About It
The site lets you know that mentioning the website when booking an appointment will get you a 15% discount. Following that, we have the Monthly Specials section. You can click on this to find out what packages are available.
Social media links to Facebook, Instagram, Yelp, and Pinterest are available. They have also displayed client pictures on their website so that you can see the results for yourself.
Lastly, the Contact Us section has their location, phone number, e-mail address, and business hours.
Conclusion
This concludes our list of the best hair salon designs. It's time to put on your thinking hat and start collecting ideas for your website design. It's always a good idea to include a stand-out unique feature on your website. Remember to include all the necessary information, and you're good to go.