Success in corporate America is still measured in balance sheets and bottom line profits, but there should be no doubt that social media is playing a major role in consumer opinions and buying habits. Let's take a brief look at a few social media marketing tips from the big guys who are changing the landscape of business: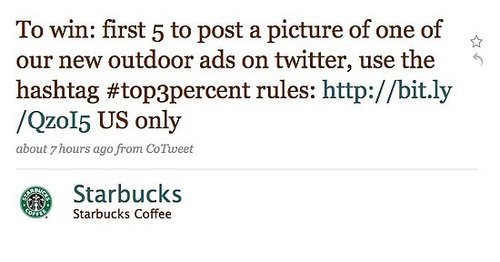 Chances are you have already stopped by your local Starbucks for your coffee or favorite dessert drink. But think about it for a moment – was it because the coffee is so good or were you simply attracted to the brand?
Starbucks is making every effort to increase brand awareness through social media. They have initiated campaigns on Twitter, Facebook, and have an entire website devoted to customer opinions – My Starbucks Idea .
Starbucks wants their customers to share their opinions and ideas and they actually implement many of them. If just makes sense – if you sell coffee, who can better help you design your menu than those who drink coffee? It shows their customers that they really care and want the experiences at Starbucks to be the best possible.
Starbucks also noticed that people were posting pictures and talking about all of their activities in social media. They decided to post pictures around the U.S. and challenge consumers to be the first to post these pictures on Facebook or Tweet about them. They simply used common knowledge of what people do every day and turned it into a game.
JetBlue Started a Twitter Ticket Giveaway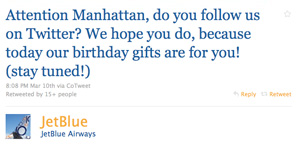 In celebration of the company's 10th anniversary, JetBlue tweeted about secret locations where people could actually receive free plane tickets. They simply connected with their customers in a fun way and rewarded loyal customers with a prize. This idea could be used on a smaller scale to offer discounts or smaller rewards to followers or fans.
Sony Music Produced Crowdsourced Michael Jackson Music Video
In 2011, the Michael Jackson music video " Behind the Mask " went live on Facebook. The amazing part of this video is that Sony Music produced it using video clips from fans from some 100 countries. At that time, Michael Jackson had over 35 million Facebook fans. The executives at Sony Music felt the best legacy would be the passion he inspired in his fans and what better way to release a single from a posthumous album than to turn to the fans. Once again, asking for opinions and recommendations from consumers allowed Michael Jackson's music to remain at the top of the charts, two years after his death.
Even though you may be a small business with no large budget or entire department dedicated to social media , many of the ideas implemented by big business can be adapted to your marketing strategy. Social media presents a unique opportunity to engage in a productive two-way discussion with your customers.
Contact us today and we'll help you deliver your message in a way that people want to hear it.